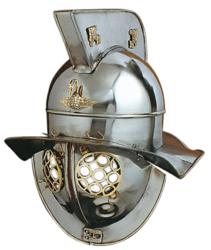 Customers will continue to enjoy a large selection of items at competitive prices with many of them including free shipping.otable
(PRWEB) May 08, 2013
In an effort to increase exposure and provide customers with greater flexibility, Armor Venue is pleased to announce the official launch of an Ebay store. With a 50 feedback rating, Armor Venue is well on its way to becoming a premiere seller of medieval armor, swords, and other historical pieces on Ebay. Products are currently being added to the store monthly, and the full catalog of merchandise should be completely moved over by August 1, 2013. Customers will continue to enjoy a large selection of items at competitive prices with many of them including free shipping.
Armor Venue's Ebay store features an eclectic assortment of historically authentic armor and weapons fitting for reenactments, media productions, and collectors, and display cases. Among the offerings are swords, helmets, and armor from the medieval period of knights, the Viking Age, and ancient Rome. In addition, the store also has chainmail, World War II headgear, and other armor accessories.
One of the most popular product lines on Armor Venue's Ebay store are the Roman helmets, including the Gladiator helmet. This historically accurate piece is hand forged from 18 gauge steel with a brass face cage and is fully functional with a customized fit. Crafted by Deepeeka, renowned designer, this helmet goes back to the days of gladiator arena matches, in which men fought for their lives and makes for a truly impressive look.
Another noteworthy find on Ebay is the Medieval War sword. This high quality, battle ready sword is easy to use with a length of 38" and a carbon steel blade, featuring a solid tang and a hilt wrapped in leather. It also has a brass pommel and cross bar. This sword is bound to command authority and is perfect for practical use or display.
To see the full selection of products available at Armor Venue's Ebay store, visit http://stores.ebay.com/Armor-Venue?_rdc=1.