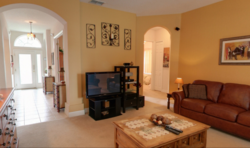 Staying is a private home was way better for our family than having to pay for multiple hotel rooms. Love it and would do it again. Barbara Kingdon
Orlando, Florida (PRWEB) May 08, 2013
There is good news for those looking for premium vacation home rentals in Orlando Fl. Aplus Vacation Homes has recently announced their expansion into offering larger, premium residential properties for vacation rentals. This will be of particular interest to those who are looking into Orlando vacation homes near Disney World as well as "The Wizarding World of Harry Potter" at Universal Studios and near other major attractions.
Jim Van De Laer, owner of president of Aplus Vacation Homes says, "We have increased the number of 5 bedroom rental homes for rent very close to Disney World, renting for the same price as an average hotel room." This now gives vacationers and travelers some luxury accommodation options when coming to Central Florida.
Van De Laer says his company has found a need. "We have found that families that visit Disney World usually prefer to stay in a large private home than paying for the high cost of multiple hotel rooms." These luxurious private homes also allow for group breakfasts or dinners without the added expense of hotel or premium restaurants.
They also provide lower key entertainment options for those in a larger group who may not want to spend most of their day at a theme park. Guests may be able to stay by a private pool for an afternoon, a leisurely nap, or enjoy a private Jacuzzi or a quiet backyard to take in some sun.
Now, those with large family groups, or even large business groups, can stay in a choice of multi-bedroom homes that can accommodate parties of 10, 12, or even more. Many of these homes feature amenities not found in luxury hotels. Aplus Vacation Homes has recently listed many of these large, Orlando area vacation homes that include private pools, Jacuzzis, game rooms, pool tables and in-home laundry facilities. Vacationers can choose homes that are in premium, secure locations, that provide privacy not found at traditional accommodations.
When visiting the Aplus Vacation Homes website, one will find it easy to locate homes that are 3,000 square feet or more, with a choice of amenities. The site is easy to maneuver, and properties are searchable by date, number of bedrooms and amenities. Extensive descriptions are provided that help make the decision of what property to select even easier.
The availability of new 5 bedroom homes close to the Disney World area will be of particular interest to those seeking an affordable alternative to luxury or premium hotels in the area. These spacious homes can give visitors the superb feeling of staying at a luxury resort, but with much more space and more comfortable surroundings. Of course private kitchens and dining areas are a significant plus.
Aplus Vacation Homes also offers something a little extra with these luxury home rentals. That is the ability to add specific equipment rentals and have them available on site, when you arrive. These options may include special needs products like wheel chairs or child products like high chairs or pack-n-plays. The company even provides barbecue grill rentals for your stay. These products can make stays easier while avoiding the hassles of packing extra gear.
If you would like to know more about this innovative way to rent Orlando Fl vacation homes that are a cut above, visit their website at http://www.AplusVacationHomes.com.