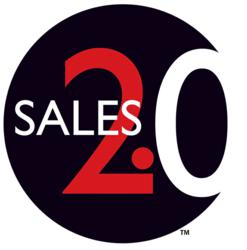 McKinsey & Company research has shown that the buyer's sales experience itself is becoming an increasingly influential factor in purchasing decisions.
Santa Cruz, CA (PRWEB) May 08, 2013
Sales Dot Two Inc., producers of Sales 2.0 events, today announced the agenda for the Sales 2.0 Conference to be held in London, UK on Thursday, June 3. This will be the second Sales 2.0 Conference to take place outside of the United States since the conference series was launched in 2007.
Conference organizers say the agenda reflects an awareness that B2B buyer behavior is in flux.
"Last year, our first London Sales 2.0 Conference was all about how to leverage technology and process to stay competitive during a recession," says Sales 2.0 Conference Event Director Larissa Gschwandtner.
"This year we're hearing less about economic squeezes," she says. "In London, sales experts and business leaders will take the stage to reveal a variety of best practices and emerging trends that will help sales teams address the needs and wants of today's B2B buyer."
One new trend is that the buyer's sales experience itself is becoming an increasingly influential factor in purchasing decisions (more so than issues related to price, service/support, and reliability). In fact, McKinsey & Company research has shown specifically that the overall sales experience is the second most important influence on a B2B purchaser's decision to buy.
"We're excited to hear McKinsey & Company partner Jigar Patel share with our London attendees how technology, analytics, and big data are influencing sales strategy and processes," says Gschwandtner. Patel's presentation, "More Science & Less Art," shares some similar themes with a 2011 presentation from another McKinsey partner, David Edelman. (In the accompanying video, Edelman points out that sales and marketing organizations are trying to be "more data driven, more digital, more aware of how all of the interactions that they're having with consumers can actually create the basis for information that they can use.")
The theme of buyer behavior will also be explored during the panel session, "How to Successfully Adapt to Changes in Buyer Behavior: Real-World Insight from Global Procurement Directors." During this session, three Fortune 500 procurement directors will share the tactics they use to squeeze extra discounts from vendors. Attendees will learn:

The hard-core negotiating strategies used by procurement.
How to ensure company value is recognized – and paid for.
Easy to implement tactics that can be immediately applied in the field.
Other agenda highlights include how to optimize sales process ("Success Strategies for Sales Process Optimization and Revenue Growth," featuring speakers David DiStefano, CEO of Richardson, and David Partington, Head of Retail of Gallagher Heath) and how to execute a winning sales presentation ("Small Message, Big Impact: The Elevator Speech Effect," featuring speaker Terri Sjodin, Principal & Founder of Sjodin Communications).
All registrants of the London Sales 2.0 Conference will receive access to the following bonus materials after event.
2013 Sales Management Optimization: Key Trends & Analysis (CSO Insights Report)
The Sales 2.0 Impact Report (2013)
2013 Sales Leadership Priorities Report (Frost & Sullivan)
Complimentary white papers on sales, marketing, and management effectiveness
The London Sales 2.0 Conference will be hosted by Gerhard Gschwandtner, founder and CEO of Selling Power magazine, the leading global publication for sales management executives. Selling Power is a media cosponsor of the Sales 2.0 Conference.
About the Sales 2.0 Conference
The Sales 2.0 Conference showcases leadership strategies and SaaS technologies that help B2B sales and marketing leaders create more competitive teams and drive higher profits. Attendees learn how to achieve measurable success in such areas as CRM use, sales and marketing collaboration, lead generation and pipeline management, social media for sales and marketing, analytics and metrics management, customer engagement, sales transformation and change leadership, and sales process improvement.
Audience
Job titles represented will include CEOs, VPs of Sales, VPs of Marketing, VPs of Sales Operations, Division Sales Managers, Directors of Sales and/or Marketing, Directors of Sales Operations.
Contact
Larissa Gschwandtner
larissa(at)salesdottwoinc(dot)com
Tel: 831/435-9563
Twitter: @Sales20Conf / #s20c