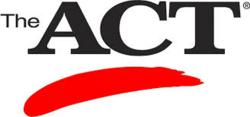 Online and computer-based ACT test prep programs will give students an advantage on test day
Santa Monica, CA (PRWEB) May 08, 2013
A common shift that standardized tests have made in recent years is from a paper-based examination to a computer-based test. The ACT has announced that it will follow the path of the GMAT, GRE and MCAT, and move its exam online. This change could create a shift in who takes the ACT, the skills necessary for success, and how students prepare for the exam.
The move toward a computer-based exam may allow for wider availability and greater popularity for the ACT among international students, in particular.
Although the ACT overtook the SAT as the most popular admissions test for the first time in 2012, the SAT remains the dominant test for international students. The SAT reported that more than 200,000 international students took the SAT last year at one of over 1,000 SAT testing centers outside of the US. By comparison, the ACT only offers the exam at 400 international testing sites, presumably resulting in fewer than 80,000 students sitting for the exam outside of the US this past year.
Josh Stephens, ArborBridge's Director of International Development, said, "Increased access to the ACT through computer-based testing could be a great benefit for overseas applicants to US universities. College counselors around the world have told me that they would like their students to try the ACT because it often matches well with non-American curriculum. But, exam seats are severely limited outside the US - hopefully computer-based testing will make it easier for the ACT to expand international testing opportunities."
Although the ACT claims that the content of the exam will not be changed, taking a standardized test on a computer is very different from taking one on paper and requires completely different preparation.
"When the ACT becomes a computer-based exam, students will no longer be able to mark-up passages and highlight text, which is a helpful strategy for tracking information in the Reading section," said Kate Ballard-Rosa, ArborBridge's Director of Instruction. "With a computer-based test, students will need to learn how to quickly and accurately map out the structure and summarize the argument of a passage without writing on the actual text – a skill that students don't normally pick up in school."
Additionally, in the Math and Science sections, students who currently take the ACT are used to being able to annotate and fill-in diagrams or shapes directly in the test booklet. These questions, and the ways in which they are solved, will be altered when the exam moves to a digital format.
"Students will have to learn how to transcribe information from the screen in a usable way onto paper," said Ballard-Rosa. "Recreating shapes from the screen to paper can be very challenging for many students, especially since this must be done under the tight time constraints of the ACT."
The ACT is taking their time to phase in the new format, which is not scheduled until the spring of 2015.
"Online and computer-based ACT test prep programs will give students an advantage on test day," said Ballard-Rosa, who develops ArborBridge's proprietary online ACT prep curriculum. "It will be imperative for students to learn the unique test-taking strategies for the digital ACT format, and working online with a tutor will be more beneficial than ever."
For more information about online test preparation for the ACT, please visit http://www.arborbridge.com or contact info@arborbridge.com.
About ArborBridge
ArborBridge has helped hundreds of students from 18 different countries maximize their potential score on the SAT and ACT. Their students have seen SAT point increases exceeding 600 points and gained admission to top colleges like Stanford, Cal Tech, NYU, Columbia, Penn, and Georgetown.
ArborBridge tutoring is live, one-on-one, and delivered online by elite American tutors using ArborBridge's proprietary SAT/ACT curriculum, specifically designed for online tutoring. ArborBridge was founded in 2011 by Tim Urban and Andrew Finn, who previously founded Launch Education Group, a premier in-person tutoring firm with offices in Los Angeles and Manhattan.