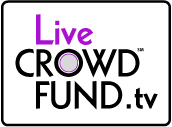 SVCrowdFund is planning a worldwide live crowdfunding startup demo pitch tour for 2013.
San Francisco, CA (PRWEB) May 08, 2013
If you are thinking of starting your new crowdfunding campaign, the emerging trend is LIVE Crowdfunding. The space pertains to launch party events at the initiation of campaigns, creating social media crowd participation and offering a great chance for your successful digital marketing.
CrowdfundBeat online crowdfunding news outlet has launch a new product called LiveCrowdFund.TV which provides Startups with a unique opportunity to participate and showcase their pitch skills and present their products.
"People and investors are more receptive to non-scripted pitches. They want to see and hear the real passion in an entrepreneur's personality. That is the beauty of LIVE Crowdfunding," said Sydney Armani CEO SV Crowdfund parent company of CFB in Palo Alto, CA. "Other benefits of LIVE Crowdfunding include supporting community projects, artists, and providing disaster relief," Armani continues. Live Startups' Demo & Pitch contest is organized by Silicon Valley Crowdfund Ventures to bring together traditional private investors and startup crowdfunders. SVCrowdfund is committed to provide the participants with the opportunity to network and find new partnerships.
This is a simple and efficient way to meet some of the key influencers of crowdfunding, press and investors.
Live Crowdfundbeat is planning a worldwide live crowdfunding startup demo pitch tour for 2013. So far selected cities include San Francisco, Los Angeles, Chicago, Austin, Boston, Atlanta, New York, London, Paris, and Amsterdam. Sponsored by StartUpSignUp.com, the tour includes crowdfunding workshops and live demo & pitch competitions. SVCrowdFund is committed to provide startup participants with the opportunity to network, employment, and create new partnerships.The event can be streamed online around the world .
http://www.crowdfundbeat.com
http://www.svcrowdfund.com/live.html
http://livecrowdfund.com
For more information contact:
71 Stevenson Street, Suite 400
San Francisco, California 94105
info(at)SVCrowdfund(dot)com
1-415-879-1500