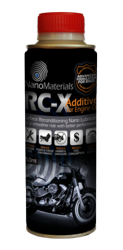 "We are thrilled to be expanding our reach to this segment of the Vietnamese market."
Yavne, Israel (PRWEB) May 23, 2013
NanoMaterials Ltd, extreme performance lubricants company, announced a distribution agreement with Linh Phan Co. Ltd. of Vietnam for its anti-friction (AF)/anti-wear (AW) NanoLub® lubricants for motorbikes. Ling Phan will distribute NanoMaterials' complete range of NanoLub ® RC-X for motorbikes and scooters across Vietnam and other countries in which it operates. NanoMaterials' NanoLub® series is the first successful commercial implementation of inorganic, multi-layered fullerene-shaped nanoparticles in lubricants. This technology extends oil life under extreme pressure (EP) and temperature conditions and thus has an outstanding capacity to improve engine performance.
NanoMaterials' new NanoLub® RC-X range is based on patented and award-winning technology developed at Weizmann Institute of Science. NanoMaterials produces pioneering multi-layered fullerene-shaped inorganic WS2 nanoparticles. The innovative nanoparticles feature a unique continuous tribofilm creation mechanism that helps repair wear damages by coating moving engine parts with lubricating layers.
Tests have shown that incorporating NanoMaterials' inorganic, lubricant additives into oil and grease formulations delivers a range of performance enhancements including:

Significant friction reduction
Reduced wear of contacting surfaces
Reconditioning of existing wear damage
Enhanced energy and fuel efficiency
Reduced operating temperature
These translate to significant cost and performance benefits such as lower energy consumption, extended effective operation of mechanisms, extended lubricant life, extended machinery life, and reduced emissions.
"According to the Vietnamese Ministry of Industry and Trade, the Vietnamese domestic motorcycle market added three million new units last year or 7% of total world motorcycle sales," says Baruch Halpert, Chairman and CEO of NanoMaterials: "This is an opportunity for us to penetrate this huge potential market; we are thrilled to be expanding our reach to this segment of the Vietnamese market."
"With NanoLub®, Vietnamese citizens and companies can now further reduce their costs on oil change and maintenance intervals!" says Mdm Vu Thi Thu Phuong, CEO of Linh Phan: "Besides extending service intervals, motor vehicle users can now enjoy improved engine response and other benefits of NanoLub ®. Now owners of motorscooters in Vietnam can look forward to enjoying the benefits and savings made possible by NanoLub®."
About NanoMaterials Ltd.
NanoMaterials Ltd. (Apnano), cleantech company, is a pioneer of inorganic, multi-layered fullerenes. NanoMaterials was the first to succeed in the commercial production of inorganic, multi-layered nanofullerenes and nanotubes, based on platform technology developed at the Weizmann Institute of Science. The company's WS2-based nanomaterials opened up new possibilities for developing extreme performance lubricants, coatings and polymer composites. These materials feature outstanding extreme temperature (ET) and extreme pressure (EP) properties. The composition and morphology of these materials create a unique mechanism of friction-induced tribofilm release. The exfoliated nanoparticles attach to working-surfaces, fill in wear crevices and coat working surfaces with a continuous super-lubrication layer. This "surface reconditioning" effect improves energy efficiency, extends effective operation, and extends machinery and lubricant life.
NanoMaterials has earned international recognition and won numerous innovation and excellence awards, including winning the prestigious Red Herring Top 100 Innovators award. The company's NanoLub® family of EP lubrication applications (oils, greases, solids) is gaining increasing recognition and growing demand particularly in the automotive and heavy equipment industries; other industries they are involved in include defense, mining and metalworking.
For more information, visit: http://www.apnano.com
About Linh Phan Co. Ltd.
Linh Phan Co Ltd is a foreign invested local Vietnamese company that specializes in providing cost reduction consultation and services to the local transport industry. Besides trading and providing consultation services to transportation companies, Linh Phan also produces educational reading material to increase awareness on topics relating to various vehicle parts and their uses.
For more information, visit: http://www.linhphan.vn.