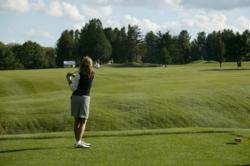 Lake Placid, N.Y. (PRWEB) May 08, 2013
The Lake Placid based Regional Office of Sustainable Tourism is pleased to announce that the pristine, scenic fairways of the Lake Placid region golf courses have emerged from the protective blanket of snow to open for the spring golf season.
The dichotomy of the spectacular Adirondack scenery that surrounds the area's challenging layouts makes it difficult for golfers to keep their heads down, as the awe-inspiring backdrop of the Adirondack High Peaks makes play on these historic courses an even bigger, yet exciting test.
Lake Placid itself offers 81 holes of golf, including the classic Craig Wood Golf Course, the tree-lined Whiteface Club, and Lake Placid Club's signature Links course, Mountain Course and the popular Pristine Nine. Add to this nearby championship layouts at the Saranac Inn Golf & Country Club and the Westport Country Club on Lake Champlain, plus a number of other regional courses - 14 in all - for a whole season's worth of play.
Of course, non, or apres-golf activities abound as well, including hiking, biking, paddling, historic sites, natural wonders, a wide range of dining and alpine streets lined with shopping prospects - to name just a few.
Tremendous early season golf and stay packages are available now; with amazing value-added options from mid-week pricing to including unlimited golf.
For more information about the spectacular Adirondack golf experiences available, visit http://www.lakeplacid.com/do/golf.