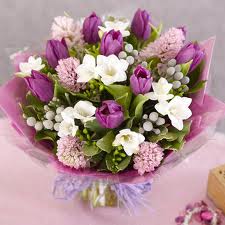 Admission is free so bring all the moms in your family to pick their own Mother's Day bouquet at deep discount prices that look like you spent a fortune
Los Angeles, CA (PRWEB) May 08, 2013
LA Flower District California Flower Mall opens 24/7 with Dia de Las Madres & Mother's Day discount flower gifts up to 70% off retail prices. CFM is the only Downtown Los Angeles wholesale flower market open until 11 p.m. week nights and round the clock until 7 pm Mother's Day Sunday. It's paradise for procrastinators buying last minute bargain blooms for Mother's Day.
"Admission is free so bring all the moms in your family to pick their own Mother's Day bouquet at deep discount prices that look like you spent a fortune," says Hilda Jimenez, operation director at California Flower Mall, who oversees the Mother's Day weekend marathon. Jimenez, a native of Mexico, says on Dia de las Madres eve – Thursday May 9 – mothers are traditionally honored with pink or red roses and serenaded by a live mariachi band.
The 8 block Los Angeles Flower District neighborhood -- one of the Los Angeles' most colorful, urban destinations, is lush with miles of flower market aisles and sidewalks blooming with millions of fresh flowers that dazzle the senses.
"It's the busiest holiday of the year for the LA flower industry. Every stem in every florist shop, supermarket, warehouse store and street corner was probably sourced here. To meet Southern California's demand Los Angeles wholesale flower markets will distribute 12 -15 million stems a day Mother's Day week," says Mark Chatoff owner and president of California Flower Mall.
Mother's day is second to the winter holidays in retail spending the National Retail Federation reports. Two-thirds of shoppers plan to buy flowers this year. Spending on Mother's Day flower gifts is expected to reach $2.3 billion the NRF says. "Flowers have always reigned as one of the top Mother's Day gifts," says NRF spokeswoman Kathy Grannis.
Shop LA's wholesale flower district like a floral trade pro with these insider tips:

Arrive Early: Shop before 9 am or after 6 pm for the best deals, selection and parking. Farm shipments arrive around 4:30 am.
Evening Stroll: Beat traffic and congestion visit after dinner Thursday, Friday or Saturday.
Bargain: Don't accept the first price offered. Negotiate -- it's an accepted business custom. Not every business sells wholesale to the public so shop around.
Buy Big Bunches: Two or three bunches of the same flower look luxurious.
Thrifty Favorites: Bunches of gerberas, hydrangeas, carnations, and ranunculus - a rose look-a-like -- are as low as $3.
Color Selection: Select the same color flower in different shades for a rich looking bouquet.
Relax: If DIY is not your style or you're on a tight schedule, pre-made bouquets and arrangements are $15 and up.
Bring Cash: An onsite ATM is available.
Sunday Closeouts Savings: late Sunday prices drop to clear inventory. If you wait until Sunday afternoon to buy bargain blooms expect thick crowds, heavy traffic, fewer choices and rock bottom prices.
"It's easy to express love for all the moms in your life without breaking the bank. Make a date to dazzle your mom, grandmother, sister and sweetheart on an urban adventure to pick flowers at the LA Flower District California Flower Mall. Jimenez adds, "We'll be open for you -- Feliz Dia de las Madres!"
About California Flower Mall
The Los Angeles Flower District California Flower Mall, located at 825 San Pedro Street, is one of the largest premier DIY wholesale flower marts in the Downtown Los Angeles flower market neighborhood. The 8 block Los Angeles Flower District community is the largest concentration of wholesale flower markets and flower businesses in the U.S. It is located in the LA Fashion District Business Improvement District.
Hilda Jimenez, CFM operations director is an elected member of the LA Fashion District Business Improvement District Board of Directors.
Mark Chatoff is the owner and president of California Flower Mall and past Chairman of the LA Fashion District Business Improvement District. He's one of the early members of the Downtown Los Angeles Property Owners Association, and has been in the forefront of the revitalization and renaissance of Downtown Los Angeles since 1994.