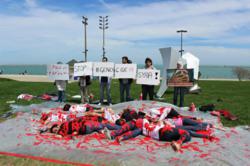 Chicago, IL (PRWEB) May 08, 2013
About two dozen Syrian-American activists gathered on Sunday in downtown Chicago to stage a "die-in" to protest the Assad regime's large scale massacres on Friday in the coastal town of Banyas in northwestern Syria. The massacre by the Assad regime's troops and militias targeted Sunni neighborhoods and villages, killing over 100 people including women and children, according to reports cited by the State Department.
"We felt the need to raise awareness about potential genocide taking place in Syria," said Kenan Rahmani, the 'die-in' organizer and board member of the Syrian American Council, the nation's largest Syrian American advocacy group. "Entire families were executed by Assad forces in Banyas, in an area where there were no rebel fighters, simply because they were Sunni Muslims living peacefully in a predominantly Alawite governorate. According to eyewitnesses we are in contact with, the actual death toll is over 1400, with dozens of women and children left in the streets after being stabbed, raped, and burned."
Rahmani, a resident of Indiana, helped organize the event, and drove to Chicago to join other activists in solidarity with the Syrian victims. Using red paint and makeup, the activists created a shocking scene, which caused hundreds of passerby pedestrians and cars to stop, take pictures, and ask about Syria. Similar 'die-ins' are being planned nationally following the success of this event.
"Ethnic cleansing is taking place in Syria, and the U.S. and other world powers have the responsibility to protect the civilians from the Assad regime," said Rahmani.
The U.S. Department of State issued a statement on Friday condemning the massacres and calling for those responsible within the Assad regime to be held accountable.