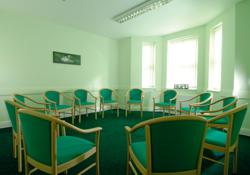 "Believe me when I say The Providence Projects is second to none. My experience there was unbelievable. Not only do they get you well, but they also show you how to have fun clean and sober." Paul 'Gazza' Gascoigne.
UK (PRWEB UK) 9 May 2013
The Providence Projects, formed in 1996, has developed into one of the best known and leading drug and alcohol rehabilitation centres in the UK. With success rates second to none, and a list of ex clients who continue to talk so positively about their experience in The Providence Projects, it is not surpising that so many people are seeking help from the team delivering this superb programme on the South Coast.
Amongst the list of successful ex-clients who speak highly of their experience at The Providence Projects are Matt Willis, Paul Gascoigne and Norman Cook who all had successful treatments.
From it's humble beginnings, The Providence Projects has grown, now operating from 2 fabulous sites, offering alcohol and drug detox and rehabilitation for up to 40 residents. All services are offered from detox right through to aftercare.
During the last 12 months, over 95% of all clients have successfully completed the detox programme. This includes clients who have detoxed from alcohol, cocaine, prescription drugs, heroin and cannabis.
The delivery of the therapuetic programme, which is the key to long term recovery has improved even further. The Providence Projects has continued to assist other centres open around the world and has helped to write the programmes to ensure clients have the best chance of recovery. The blend of one-one counselling, group therapy, workshops, alternative therapies, written assignments and team activities, delivered by a team of addiction experts ensures that clients can expect the complete treatment package.
WIth many UK rehabs now charging between £2000 and £5000 per week and the growth of referral agents who recommend clinics from whom they receive the largest commission, the price of detox and rehab has in many cases, become too expensive for those most in need. As a not for profit organisation, and under the guidance of Steve Spiegel and Paul Spanjar, The Providence Projects have ensured that treatment remains affordable. Full treatment programmes inclusive of detox are available at £3750 and treatment is charged at £675 per week thereafter.
I remember feeling so anxious before. But he did it. What a man – he's strong, he's changed, he's unbelievable and we are solid." Zoe Ball (Talking about Norman Cook coming to The Providence Projects)
If you or a loved one are affected buy a drug or alcohol problem, there is no need to be alone. Call a Providence Counsellor today for a chat on 0800 9550945. Counsellors are available 24 hours a day.