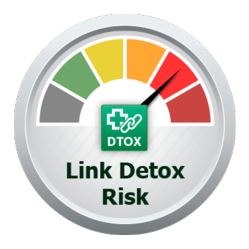 For many years, Christoph C. Cemper has been speaking on the topic of links & risk management, and he strongly states, "The days of dirty SEO practices are over."
Vienna, Austria (PRWEB) May 09, 2013
Link Risk Management is a new practice that the SEO industry is being forced to learn quickly. In prior years, link building simply meant creating as many backlinks as possible. Today however, too many bad links can be deadly to a website's ranking.
CEMPER.COM remains an industry leader by implementing new concepts, such as link risk management, into their own software and services.
In 2012, search engine marketing agency CEMPER.COM developed the Link Detox tool to classify toxic, suspicious, and healthy links. Since then, many new features have been added, and the new Link Detox Risk metric helps manage the risk of links.
A Link Detox report for a requested domain now displays Link Detox Risk levels. These levels range from "Deadly Risk" to "Very Low Risk". Link Detox Risk level gives quick insights needed to make decisions about an individual backlink and monitor improvements of an entire link profile.
Different modes are available for starting a Link Detox report. One option is to select the "What-If" mode. This mode has the ability to upload a list of potential backlinks and check for suspicious or toxic links before building unwanted links.
Analyze up to 5 million links in Link Detox.
Previously, Link Detox had a limit of 150,000 links. Now, extra-large Link Detox reports are possible with Link Detox XL. With this added functionality, users are able to handle large clients. Link Detox can now analyze up to 5 million links and classify any toxic or suspicious links.
The Link Detox XL version allows for a file uploads from Google Webmaster Tools, etc. (zipped or gzipped). The file size is limited by 50 megabytes, which allows for approximately 5 million links.
The costs for the report does increase with the number of links requested to analyze. If the Link Detox tool requires more than one credit, it will ask and confirm to spend more than one credit on the report.
Purchase single credits for Link Detox, or obtain multiple credits by purchasing a Link Research Tools subscription.
With Link Detox, manage the risk of existing links, get a preview of how "what-if" links can affect Link Detox Risk, and analyze up to 5 million links.
Company Information profile
CEMPER.COM is an SEO agency specialized in internet marketing services. The agency offers link building software, search engine technology knowledge, SEO competitive research, SEO training, and SEO tools. Founded in 2003, the company is based in Vienna, Austria, Europe. CEMPER.COM serves over 500 international customers in the US, UK, Australia, and European countries - including Germany, France and others.
Contact:
CEMPER.COM, Christoph C. Cemper
tel: US: (800) 606 976
tel intl: +43 1 236 63 85
christoph(at)cemper(dot)com
http://www.linkresearchtools.com, http://www.cemper.com