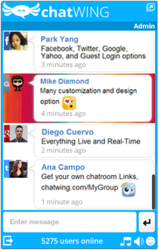 New York, NY (PRWEB) May 12, 2013
Chatwing.com and its team of developers have recently launched the newest version of their chatroom tool: software 2.5. In this version, chatroom visitors can enjoy faster communication setup, along with endless message reference function, or unlimited message history. Now, chatroom visitors and bloggers can review their messages as often as they want.
The Chatwing chatbox can be installed to any website. The installation process has an average of twenty to thirty seconds, and the bulk of the user's time is spent on the chatroom setup. In the account dashboard, users can choose from over dozens of colors—they can mix designs in order to create wonderful color schemes that would complement the appearance of their blogs and websites.
The unlimited message history system is the product of numerous customer feedbacks across blogging communities. Few months ago, Chatwing's developers reached out to many niche bloggers, explaining the importance of chat widgets in their everyday blogging endeavours. Bloggers often complained that important messages get lost in the plethora of spam and other chatroom data. With the unlimited history system, users just need to click a certain button to load past messages. They even have the liberty to delete messages as often as they want.
Chatwing.com will continue creating more chatroom apps in the coming months. Apart from that, the company will also reach out to forums to spread the knowledge about upcoming features. Information about these updates will also be discussed in Chatwing's official Facebook page.
About Chatwing.com
Chatwing.com specializes in the new field of website chat. Over years, the Chatwing team has introduced live chat widget for hundreds and thousands of blogs. The Chatwing application bridges people from many parts of the world, creating global synergy through the Internet. The shout box can be installed in just seconds, and it can be used for varying purposes such as leisure and Internet marketing. It also allows a user to customize the size, color, and name of the widget. Chatwing is 100% free for everyone.