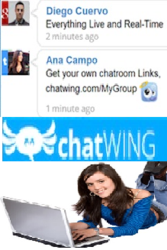 New York, NY (PRWEB) May 13, 2013
After carefully studying the feedbacks of their clients, Chatwing's developers have added new color choices in the chatbox dashboard. With these new colors, users can now have better designs for their chatrooms. Apart from that, the colors can help complement the designs of most websites. These colors can also be combined with different editing functions in the dashboard.
The Chatwing software appears in the form of widget that can be embedded to any website. Once installed, the chatbox will generate natural streams of traffic. Additionally, the website owner can also communicate with his visitors through the chatroom. He can share important product and service information, as well as updates and contests. The chat box offers different functionalities, such as background image setup and MP3 link upload option.
With the new colors, chatroom admins can create different color schemes within minutes after registration. These schemes can be mixed with font styles for greater chatroom impression. If the user doesn't want to tinker with editing functions, he can settle for Chatwing's default background images. These images have aesthetic designs—combinations of lines and soothing colors.
Chatwing's developers believe that there are always a room for improvement. In the coming months, the company will add more colors, background themes, and font styles to give more editing choices to web users and chatroom admins.
About Chatwing.com
Chatwing.com specializes in the new field of website chat. Over years, the Chatwing team has introduced live chat widget for hundreds and thousands of blogs. The Chatwing application bridges people from many parts of the world, creating global synergy through the Internet. The shout box can be installed in just seconds, and it can be used for varying purposes such as leisure and Internet marketing. It also allows a user to customize the size, color, and name of the widget. Chatwing is 100% free for everyone.