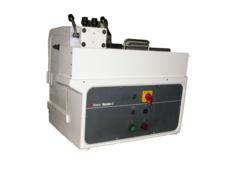 Refurbished metallographic equipment is very popular with industry leaders worldwide. Spectrographic's work is helping to support research and development across Europe.
Leeds, West Yorkshire (PRWEB UK) 19 May 2013
Spectrographic Limited, a leading supplier to the material science industry, and specialist in the refurbishment and repair of high specification metallographic equipment, has reported a year of record sales, with a rise in commissions from a number of high profile organisations across the UK and Europe.
Spectrographic, which counts organisations such as BAE Systems among its clients, is seeing the demand for refurbished metallographic equipment increase, especially among European based clients. The company has supplied refurbished products to a number of prestigious clients including DEKRA Industrial AB in Gotenburg in Sweden, and the Norwegian University of Science and Technology (NTNU) in Trondheim, Norway.
Paul Chippendale, Managing Director of Spectrographic, comments:
"Refurbished metallographic equipment is very popular with industry leaders worldwide. The practice of refurbishing specialist equipment is recognised as a sustainable approach across the industry, where materials are often very expensive, and warrant careful restoration and refurbishment."
"The products we are working with are extremely high quality, and have been meticulously designed and manufactured. Spectrographic gives this equipment a new lease of life. All our refurbished products come with a full warranty, and are repaired to last."
"Our clients are often very prominent organisations. BAE Systems is engaged in the development of advanced defence, security and aerospace systems; DEKRA is one of Europe's leading expert organisations; and The Norwegian University of Science and Technology (NTNU) in Trondheim, Norway educates roughly 80 per cent of all engineers in Norway. We are delighted to be working with them, and to be in a position to supply them with quality refurbished materials."
Spectrographic was responsible for providing refurbished metallographic equipment for BAE Systems' involvement in the Vanguard replacement programme, including a Struers Labotom - a metallurgical cutter with twin vices and recirculation tank.
Chippendale provides an insight into how the refurbishment process works: "The Struers Labotom was stripped down to the bare casting, before being repainted and rebuilt. It's a lengthy process – but the results are excellent – with new chrome plated bearings, replacement switches and refurbished vices."
Last month the Norwegian University of Science and Technology (NTNU) purchased a Struers Unitom Abrasive Cutter from Spectrographic. Once the high powered 300 mm cutting machine had been completely refurbished, Spectrographic arranged delivery, installation and testing. The team travelled to Norway to oversee the whole process and provide operational training on site.
DEKRA Industrial AB in Sweden purchased refurbished machinery from Spectrographic in order to expand their laboratory facilities. The company works to increase safety levels across various industries.
Simon Niederhauser, Materials Engineer at DEKRA Industrial AB, commented: "We bought several instruments from Spectrographic, and have been very impressed with the level of service we received. Their response times and amenability were excellent. We were able to trial the machines before purchasing, which really helped our decision making process. The machines have been refurbished to a very good condition and are a welcome addition to our lab. We will definitely consider Spectrographic products in the future."
Spectrographic supplied DEKRA Industrial AB with a number of refurbished products including a Vickers hardness tester, Leica S6D microscope and Struers Discotom - a metallurgical abrasive cutter for cutting of ferrous and non-ferrous materials.
Spectrographic is one of the UK's leading suppliers of metallographic equipment and consumables to the material science industry. The company supports clients nationwide and internationally with a variety of metallurgical requirements. Through the supply of quality products – at highly competitive prices – Spectrographic aspires to deliver excellent solutions, which assist clients with their research and development processes.
The company offers a comprehensive range of metallographic products and equipment for material science analysis and quality inspection procedures, as well as specialist advice in material sample preparation, computer based image analysis and microscopic inspection.
Spectrographic is a family-run business, which was originally founded in 1999 as Spectrographic Laboratory Supplies. Based in Baildon, West Yorkshire with demonstration laboratories in Bradford, Halifax and Leamington Spa, Spectrographic was set up, and continues to be run, by Managing Director, Paul Chippendale – a skilled metallographer with over 20 years' experience in the industry.
Spectrographic's customers are expert metallurgists working in the automotive, oil and gas and aerospace industries, and for higher and further education establishments, and include organisations such as Rolls Royce, BAE Systems, Siemens and Tata Steel, The University of Oxford, The University of Manchester, The University of Sheffield and DEKRA Industrial.
For more information about Spectrographic visit http://www.metallography.co.uk or contact a member of the team on telephone 01274 966 173 or email info(at)metallography(dot)co(dot)uk.