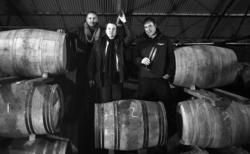 Murray McDavid 'Leapfrog' bottlings are now legendary.
(PRWEB UK) 9 May 2013
Murray McDavid, the independent bottler of single malt Scotch whisky has been sold to UK based Scotch whisky suppliers Aceo Ltd. Murray McDavid was established in 1996 by Mark Reynier, Simon Coughlin, and Gordon Wright and the company was named after Reynier's grandparents, Harriet Murray and Jock McDavid.
The new venture soon became known for challenging whisky industry conventions, replacing the bland and rather stuffy industry style tasting notes with informative and irreverent label text together with its Gaelic logo 'Clachan a Choin' (which translates as 'the dog's bollocks')… All its bottlings were unchillfiltered and colouring free and in particular only the very best casks were bottled. They later moved on to marrying great spirit with great wine casks from all overtheworld which they called ACEing (Additional cask evolution). Its 'Leapfrog' bottlings are now legendary!
On December 19, 2000, Murray McDavid became part of the acquisition to purchase the then-dormant Bruichladdich distillery on the Hebridean island of Islay and returned it to production. After twelve years of successful independent operation, Bruichladdich was sold to French premium spirits company Remy Cointreau in 2012.
Aceo Ltd supplies cask whisky and distillery services to the Scotch whisky industry offering a wide range of single malts, single grain and various blended products.
Its distillery services include cask storage, bottling and labelling. The company logistics department also transports bulk and bottled products to UK and overseas destinations and processes Customs & Excise duty payments for export purposes.
Edward Odim, director of Aceo says: "Aceo Limited is delighted to be the new owner of Murray McDavid. We have enjoyed excellent relations with Murray McDavid in the past and have always admired its pioneering and irreverent spirit as well as its position in the vanguard of independent bottling.
"Our intention is to continue the legacy of Murray McDavid by staying true to its founders' vision and principles such as bottling carefully selected single malts without chill-filtering or adding colour and continuing and developing the tradition of ACE-ing casks.
"Aceo Limited and Murray McDavid Limited will be run as separate companies. Murray McDavid will be independently managed by individuals previously involved in its running, who understand its roots and are committed to building on its achievements."