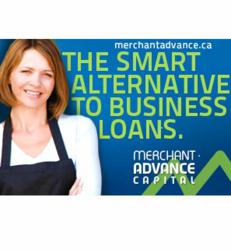 Merchant Advance Capital is the first Canadian merchant advance company to offer both merchant advances and conventional small business loans.
Vancouver, BC (PRWEB) May 09, 2013
Since the Canadian introduction of the merchant advance service in 2006, there have been several new entrants into the small business financing industry that offer this service. A merchant advance is a flexible form of financing that is based off of a merchant's future debit and credit card sales.
Merchant advances are a terrific financing option for many store-front businesses across Canada, as they do not require specific collateral and are purely based on sales.
Unfortunately, many prosperous businesses may be ineligible to qualify for a merchant advance, as they do not process debit and credit card sales.
For example, a professional corporation such as a dental or medical clinic is paid by insurance companies or the government, whose payment is processed using direct deposit, and a wholesaler/distributor is likely paid by cheque or electronic funds transfer. These businesses have substantial cash flow but do not qualify for a merchant advance as they do not meet the required minimums for debit and credit card volumes.
While these types of businesses wouldn't typically qualify for a merchant advance, they are ideal candidates for a Merchant Advance Loan.
A Merchant Advance Loan is similar to a merchant advance in that it is primarily used for short-term working capital and is repaid automatically on a daily basis. The primary difference is that the small daily payment is fixed – the exact same amount comes out each day which gradually pays back the loan – as opposed to it being based on debit and credit card sales volumes. This new payment structure allows Merchant Advance Capital to offer a traditional loan for businesses that do not qualify for a merchant advance.
To learn more about the Merchant Advance Loan from Merchant Advance Capital or to apply for the program, go to http://www.merchantadvancecap.com and chat with our friendly agents online. Keep up with the latest Canadian business news and happenings with the company's blog and subscribe to the popular monthly publication, The Merchant Advisor.
About Merchant Advance Capital:
Merchant Advance Capital (MAC) is a Canadian owned and operated company headquartered in Vancouver, British Columbia that provides flexible financing solutions for Canadian small businesses.
Their processes are fully automated and business owners have the option to tie their payments directly to sales volumes, giving small businesses exceptional cash flow flexibility. Founder and CEO David Gens comes from a family of entrepreneurs and his previous experience was in the private equity investment business with CAI Capital Management Co. He launched Merchant Advance Capital to provide alternative financing to a wide range of businesses including: restaurants, pubs, clothing stores, retail stores, convenience stores, professional corporations, coffee shops, auto repair shops, clinics, franchise operations, wholesalers, hotels, and many others across Canada.