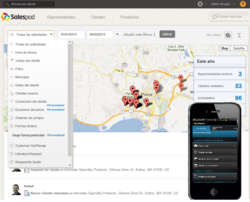 Salespod's new Spanish Language solution for Outside Sales and Marketing allows us to better serve a much broader set of customers around the world.
Boston, MA (PRWEB) May 09, 2013
Salespod, Inc., the maker of the outside sales and retail merchandising automation tool Salespod, has announced the release of a Spanish language version of its software. The release of a Spanish language version opens access to a much larger customer base, by making it easier for companies with Spanish speaking employees to adopt Salespod. The Spanish Version is available for both the Salespod web console, which is used by sales management, and the mobile application used by field reps on Android and iOS smartphones and tablets. Users can select which version they want to use, and can easily switch between English and Spanish.
Salespod is used in many industries to drive visibility, efficiency and accountability into Outside Sales, Merchandising and Marketing organizations. The cloud based solution is changing the way that companies manage their mobile workforce by leveraging mobile technologies to greatly streamline how information moves between the field and the back office. Known as an Agile Field Sales solution, Salespod drives efficiency in the mobile workforce by providing high value functionality on smartphones and tablets, including:

tracking the geo location of field teams and their activities
managing customer information,
gathering data using custom forms and surveys,
collecting orders,
capturing photos, and
conducting price checks
"SalesPod is our Field Supervisor and is helping not only on our service quality for our customers; it is also helping in our employee's professional growth," said Salespod customer Jorge L. Hernández-Méndez, Director of Business Development at InComm Puerto Rico. "With SalesPod we have achieved improving our efficiency at all levels."
Salespod's English language version is already used by companies from all around the world to enable Agile Field Sales practices in many industries, including Healthcare, Fast Moving Consumer Goods, Beverage Distribution, Parts, Supplies and Services sales and merchandising. "We are very excited about the release of this Spanish Language version of Salespod," said company co-founder Marko Kovac, "because we can now more effectively serve a much broader set of customers around the world."
About Salespod:
Salespod specializes in developing cloud based mobile software solutions for enhancing sales processes for the FMCG (fast moving consumer goods) industry, the pharmaceutical industry and the cosmetic industry. Since its founding in 2008, Salespod's vision has been to offer the most comprehensive and convenient mobile solutions on the market for sales and mobile management. Coined the "Swiss army knife for your mobile workforce", the software is used by L'Oreal, Lavazza, Keune Haircosmetics, Julius Meinl, Jaegermeister and many others. Salespod's solution is poised to change the way field sales teams communicate, collaborate, and conduct business, driving a fundamental shift occurring in field sales and merchandising. For more information, visit http://www.salespod.net. For industry news and reports, visit the Salespod blog at http://www.salespod.net/blog/all-news/ or Twitter.com/salespod.