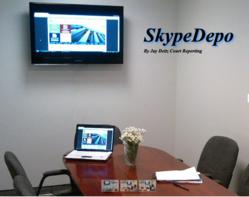 Long Island, NY (PRWEB) May 13, 2013
DeitzReporting is proud to announce - May 16 Spring Fling - Meet & Greet. DeitzReporting is NY/LI's First Choice for Court Reporting with Nationwide coverage. Client satisfaction makes a difference. DeitzReporting is pleased to make clients and friends the center of attention.
Bringing the DeitzReporting dedicated and professional staff together with valued clients is a tradition at DeitzReporting. This event always draws a diverse crowd of deposition intensive law firms, both clients and those thinking about being clients. "A little business mixed with pleasure is never a bad thing," says Mark Hoorwitz, VP DeitzReporting. All deposition intensive firms are welcome to send Deposition Coordinators to check out how DeitzReporting can make a difference for the firm. Focused on New York Court Reporting and Long Island Court Reporting DeitzReporting reaches Nationwide with OneStop coverage where you need it.
Hoorwitz adds, "All court reporting services are NOT created equal..." join DeitzReporting May 16 and find out Why DeitzReporting has become Metro NY/LI's first Choice for court reporting. Local, Metro NY Court Reporting first choice, with Nationwide Court Reporting - - coverage coast to coast.
All Deposition Centers, are spacious with various size conference tables able to accommodate large depositions. There is always fresh coffee on hand for our valued clients.
NY Deposition Suites - Long Island Deposition Suites:
Brooklyn Court Reporting - 26 Court Street
Queens Court Reporting - 89-00 Sutphin Boulevard
Bronx Court Reporting - 880 River Avenue
Staten Island Court Reporting - 60 Bay Street
Westchester Court Reporting - 3 Barker Avenue
Suffolk Court Reporting - 1797 Vets Memorial Highway
Nassau Court Reporting - 3255 Lawson Boulevard
NYC Court Reporting Locations:
NYC-Grand Central - 315 Madison Avenue
NYC-Penn Station - 1 Penn Plaza
NYC-Financial District - 48 Wall Street
NYC-Financial District - 140 Broadway
Nationwide Court Reporting coverage and conference rooms
DeitzReporting is a Metro NY based Court Reporting Service. DeitzReporting is powered by DepositionNet - - "Every Firm's Transcript Library." Covering work nationally DeitzReporting is dedicated to maintaining the largest footprint for court reporting in the Metro NY/LI region. Committed to technology and ease of use, DeitzReporting friendly staff is eager to help. DepositionNet is a user interface that enables attorneys and law firms to aggregate their transcript - - allowing attorneys and staff to view transcripts from any internet device. View, print, reprint, copy&paste, email, share - - all without scanning, powered by DepositionNet.