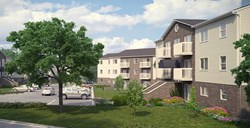 Lawrenceburg, Indiana (PRWEB) May 08, 2013
Miller-Valentine Group is proud to announce the grand re-opening of Lawrenceburg's most desirable affordable housing community: Summit Pointe Apartments, formally Deer Run Apartments. The ceremony will be held on Wednesday, May 8, 2013 starting at 1:00 pm onsite at 203 Deer Run Drive.
The ceremony will feature speakers Alan Rakowski, Tax Credit Manager, Indiana Housing and Community Development Authority, Tim Bete, President of St. Mary Development Corporation, Adrian Colosimo, Development Risk Manager for RBC Capital Markets, as well as, our most important speakers Summit Pointe residents sharing their story. A reception will immediately follow. Miller-Valentine Group worked with St. Mary Development, RBC Capital Markets, the Indiana Housing and Community Development Authority, Community Housing Capital and the City of Lawrenceburg to bring this amazing project to fruition. Summit Point Apartments have undergone a full scale renovation, which included adding a second bathroom to all 2 and 3 bedroom apartments as well as a new state-of-the-art fitness center and playground. This community is now better prepared to accommodate the lifestyles of our residents. These spacious garden-style homes are offered at very affordable rates which was made possible through an efficient financing package that included Section 42 Housing Tax Credits provide by Indiana Housing and Community Development.
Summit Pointe Apartments boosted the local economy with the $10 million renovation of the community that many Lawrenceburg residents have called home over the past 16 years. This includes wages for workers and revenue for local proprietors, small businesses, and corporations. In addition, Summit Point Apartments generated 128 new jobs during its renovation for local contractors and sub-contractors.
Jim Fenwick, President of Miller-Valentine Residential Property Management, said that "the company is excited to reinvest in Lawrenceburg, a city that we've been involved with for almost 20 years. Preserving high quality apartment homes marketable to moderate income families is critical." Fenwick explained, "Summit Pointe Apartments preserves a local affordable housing option. We are enthusiastic and privileged to serve the families in the City of Lawrenceburg and prove to them that our passion is to positively impact their lives."
For further information on the grand re-opening of Summit Point Apartments, please call Jim Fenwick at 513-519-7820 or email us at YourNextPlaceToLive(at)mvg(dot)com, or visit YourNextPlacetoLive.com.
About Miller-Valentine Group
Since our founding in 1963, Miller-Valentine Group has been dedicated to quality, value and service. Our vertically intergraded companies offer total real estate solutions in the areas of Design/Build Construction, Development, Management, and Financing for both residential and commercial markets. They also provide Renovation, Brokerage, and Leasing services for commercial markets. All of Miller-Valentine Group's divisions have combined to provide customers with more than 11,000 residential housing units and over 50 million square feet of commercial space.
Miller-Valentine Group develops real estate in the Midwest, Southeast, and Southwest regions of the country, with offices in Dayton and Cincinnati, Ohio, Columbia and Charleston, South Carolina, and Ft. Worth, Texas. As an industry leader they offer a wide range of residential products, including multi-family, single family, military housing, active adult, independent and assisted living, as well as skilled nursing communities. The company also offers a vast array of commercial products, including office, retail, lodging, healthcare, manufacturing and distribution facilities.
Miller-Valentine Group would love to connect with you!