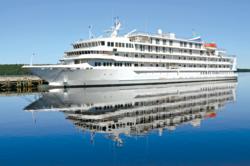 Guilford, CT (PRWEB) May 08, 2013
Pearl Seas Cruises (http://www.pearlseascruises.com) announced today its 2014 schedule for the inaugural season of the brand-new Pearl Mist. The 210-passenger ship will operate various 7-, 10- and 11-night Great Lakes, St. Lawrence Seaway, Canadian Maritimes and New England cruises. The Pearl Mist is currently undergoing final outfitting by Chesapeake Shipbuilding in Maryland. The inaugural cruise departs June 28, 2014 and is an 11-night sailing from Baltimore to Halifax, Nova Scotia. A total of 17 cruises are planned for the 2014 season, beginning in June and ending in November. Itineraries include:
– Atlantic Coast– 11-night cruise from Baltimore to Halifax & reverse
This cruise showcases some of the most scenic areas on the Eastern Seaboard and visits all of the famous vacation areas for an authentic experience along the coast.
– The Canadian Maritimes – 10-night cruise from Halifax to Québec
Shaped by the sea, guests will discover Eastern Canada's stunning scenery, impressive history and unsurpassed beauty.
– St. Lawrence Seaway and Thousand Islands –7-night cruise from Québec to Toronto & reverse
This cruise offers a blend of history, culture and scenic beauty. Guests will quickly realize the international and old world charm of this destination.
– Great Lakes and Georgian Bay – 10 and 11-night cruises from Toronto to Chicago & reverse
On this cruise, guests explore the largest freshwater ecosystem on Earth, sailing through four of the Great Lakes and Georgian Bay.
– Southeast United States – 11-night cruise from Baltimore to Nassau, Bahamas
A refreshing trip down the East Coast, this cruise stops in the various gem cities of the South and ends in the Caribbean.
The Pearl Mist defines a new style of Luxury Adventure ™ small-ship cruising, offering the most beautiful getaways on a brand-new luxury ship, which combines the latest and highest standards in comfort, safety, technology and communication. The Pearl Mist features oversized gracefully appointed staterooms, everyone with a private balcony and most with sliding glass doors, a spacious dining room, and various large and intimate lounges. Guests will enjoy numerous luxuries and amenities.
Pearl Seas Cruises will offer captivating enrichment and entertainment programs aboard the Pearl Mist and exclusive shore excursions, which will offer fascinating insight and new perspectives into the distinctive splendors of each destination.
# # #