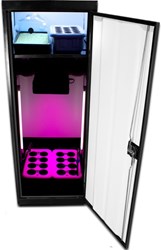 Boca Raton, FL (PRWEB) May 09, 2013
Fullbloom Hydroponics, a leading retailer of indoor gardening appliances, releases exclusive LED (Light Emitting Diode) hydroponic grow boxes and LED grow cabinets manufactured by SuperCloset of California in early May 2013. Fullbloom Hydroponics now features high-tech LED grow systems as part of a wide line of sustainable and easy to use gardening products for hobbyists and master growers alike.
The new Super LED Grow cabinets feature a proprietary 8-bandwidth spectrum to maximize plant growth in small spaces. Large yields are achieved from the powerful 3 Watt LED's packed into the Super LED Array. The benefits of this system are huge; Super LED grow lights use about half of the electricity of an HID light while producing a similar lumen output.
In addition, the 2 CM aluminum circuit boards help dissipate heat, reducing the need for air cooling, leading to a quieter and more efficient growing environment. Super LED lighting systems easily penetrate through the plant canopy which leads to better light coverage and increased growth. Proprietary technological advancements have lead the Super LED grow boxes to outshine their competitors with the future of gardening technology.
About Fullbloom Hydroponics:
Fullbloom Hydroponics features products that are ideal for growers of all skill levels. Our Super LED grow boxes take the guesswork out of growing with easy turn-key design. Most customers are up and growing within 90 minutes of receiving their product!