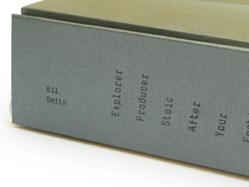 "A highly inventive collection of artists and composers who are unnervingly redefining form and tablature… creating a new lexicon of music questioning the habitual methods of composition." - Olga Bloom, Founder of BargeMusic
New York, NY (PRWEB) May 09, 2013
The launch of the Laboratorie New Music CD Label will create a platform for the distribution of the iconic new music scores from its composer members. The scores eschew the traditional five lines (the staff) typically associated with traditional music notation in favor of graphic, tactile, three dimensional and word event notational systems.
Founded in 2010 by Bil Smith, Elliot Johns, Arturo Tombley, Lucio Penone and Piero Pescali, Laboratorie New Music represents a new aesthetic in contemporary new music. It is a music label, publishing house, and web presence set forth to create a radically disruptive medium of musical development and interpretation.
From the founding members..."We evolved from the activities of a group of composers and performers who are intent on being productive and inventive in the cause of new music. While we are keenly aware that championing the cause of new music is not new; we have assembled ourselves as members of a tenacious tradition of performers and composers self-organization defining the relationship between music, art, and life."