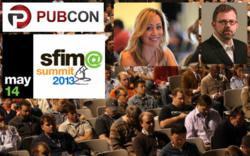 What I love most about Pubcon conferences is that people are truly there to learn, teach and help each other. — Melanie Mitchell
Austin, TX (PRWEB) May 08, 2013
Pubcon SFIMA Summit 2013 is coming up next week on May 14, and will feature not only a full day of top social media, optimization, and online marketing sessions led by over a dozen leading speakers, but also two highly-anticipated keynote presentations.
Melanie Mitchell, Digitas senior vice president and search marketing practice lead, and Rob Snell, managing partner at online business and marketing firm Snell Brothers Consulting, will each give a keynote address during Pubcon's SFIMA Summit.
Pubcon SFIMA Summit takes place on Tuesday, May 14 at the Miniaci Performing Arts Center on the Nova Southeastern University campus in Davie, Florida, and a variety of hotel options are conveniently located nearby for those traveling to the Fort Lauderdale area.
MELANIE MITCHELL AFTERNOON KEYNOTE
Longtime Pubcon attendee favorite Mitchell will be presenting an afternoon keynote address during Pubcon SFIMA Summit. Mitchell has been at the forefront of search engine marketing for over 13 years, and was vice president of search engine optimization (SEO) and search engine marketing (SEM) at AOL.
"What I love most about Pubcon conferences is that people are truly there to learn, teach and help each other," Mitchell said. "Pubcon always attracts a fantastic crowd that I learn from and always walk away with a lot of actionable notes," Mitchell added.
"Personally, I am fascinated by how the digital space continues to evolve and my keynote will focus on how to design your marketing campaigns for your audience, how to increase audience engagement and how to execute complex digital campaigns within your company for maximum impact. Overall, I am excited about the speaker lineup and tracks that are part of the Pubcon SIFMA Summit and I am already looking forward to a full day of attending sessions," Mitchell noted.
ROB SNELL MORNING KICK-OFF KEYNOTE
Snell will be the featured morning kickoff keynote speaker at Pubcon SFIMA Summit. For the past 15 years Snell has been a leader in selling through the Yahoo Store service, generating over $10 million in Web sales for clients through his innovative marketing, skilled development and professional design work.
"In 2004, our family's online dog supply business came off the tracks," Snell said. "Sales growth stopped. Overhead skyrocketed. We took a hard look at our site, and made one simple, substantial change to how we sold online which more than doubled our conversion rate. That change, combined with ongoing improvements to our site, have resulted in over $15 million in additional sales — above our normal growth," Snell noted.
"Not everyone is a retailer, but the reality is that every company has to sell something to someone. My Pubcon SFIMA Summit keynote will cover how to establish your bonafides as a subject matter expert, how to leverage that authority with compelling content by recommending products that are solutions to your customers' problems, and finish with tips on how to increase your conversion rate to make more from your existing Web traffic. And you'll see lots of pictures of rednecks with guns and some fine looking bird dogs," Snell added.
WIDE SPECTRUM OF SESSIONS AND SPEAKERS
In addition to keynotes by Snell and Mitchell, the Pubcon SFIMA Summit will also feature a wide spectrum of sessions hosted by more than two dozen top speakers from the social media, online marketing, and optimization fields.
Registration is available now at pre-show rates to join in the outstanding learning opportunities and impressive session agenda on tap at Pubcon SFIMA Summit in Florida on May 14. Pubcon and SFIMA expect to see many attendees from the recently-completed Pubcon New Orleans 2013 event, as well as many who regularly make the trip to Pubcon Las Vegas in the fall.
Learn more and register at http://www.pubcon.com
About Pubcon
Pubcon is a multi-track educational conference hosted by Pubcon Inc. Pubcon, supported by the industry's leading businesses, speakers, exhibitors, and sponsors involved in social media, Internet marketing, search engines, and online advertising, offers an in-depth look at the future of technology presented by the world's top speakers in provocative cutting-edge sessions.
For more information about the conference, contact Brett Tabke at 512-231-8107 or brett(at)pubcon(dot)com
For more details about sponsorship and exhibition opportunities, contact Conference Director Jeff Randall at 512-686-1295 or jeff(at)pubcon(dot)com