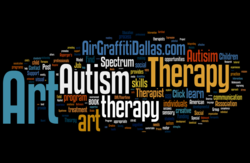 Research confirms art therapy is a proven treatment modality that helps individuals on the Autism Spectrum
Dallas, TX (PRWEB) May 14, 2013
Many children with autism have difficulty in expressing themselves verbally and often art can become an outlet and means for them to communicate with the world around them.
Nicole Martin ATR, the author of "Art as an Early Intervention Tool for Children with Autism" used the following passage to describe autism in an article written for the American Art Therapy Association Autism Tool Kit. "Imagine being chronically over-stimulated, with inadequate communication tools, difficulty focusing, and anxiety--this is the world of a person with autism.
Art therapy provides real relief; a visual tool for communication, a window to the imagination, and a motivation to make connections. Art therapists are fluent in providing high-quality, visual, sensory-rich opportunities for learning for individuals with Autism Spectrum Disorders."
Research confirms art therapy is a proven treatment modality that helps individuals on the Autism Spectrum to comfortably explore and attain increased selfawareness, enhanced communication and self-expression, improved focus and motor skills, and balanced sensory integration.
"We are pleased to be involved in a pilot test with our virtual wall technology that features digital spray paint with the Autism Treatment Center of Dallas." Said Dennis Walthers, Founder of Air Graffiti Dallas.
The Air Graffiti virtual wall was created as an event entertainment technology and has become very popular at events where it can be used as giant photo booth with digital spray paint or used with an artist to create art entertainment. The founder of Air Graffiti Dallas, Dennis Walthers, is interested in finding other beneficial uses of the technology when it's not being used at events.
To learn more about this latest technology by Air Graffiti Dallas, check out their official website at http://www.AirGraffitiDallas.com.