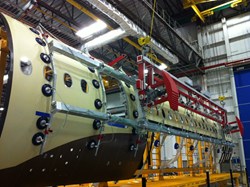 St. Louis, MO (PRWEB) May 10, 2013
Cynergy Ergonomics is now providing multi-functional commercial aircraft fuselage panel manipulator for manufacturing and shipping areas. As more and more aircraft manufacturers make the switch over to all-composite designs, they are faced with the monumental task of lifting and manipulating full-size fuselage panels. To say these panels are heavy is an understatement. Cynergy Ergonomics has solved this problem with their unique vacuum lifter that makes moving and adjusting fuselage panels a safe and easy operation.
Cynergy Ergonomics's headquarters are located in St. Louis, Missouri, where they design and build their unique machines. Customers can stop by and visit their headquarters, or give them a call, email or even drop a comment on their YouTube page. Cynergy Ergonomics is committed to providing only the very best customer service possible, and this is apparent in their hands-on approach towards customers.
"Our advanced below-the-hook vacuum lifter is used to handle 2,500 lb, 70 ft long fuselage panels. The single lifter handles five different panels; one operator controls the entire operation," said Cynergy Ergonomics owner Mike Shannahan.
Although the Cynergy Ergonomics manipulator is capable of lifting 2,500 lbs, they also work with lighter components as well. The fact is that aircrafts come in all different shapes, sizes and materials. Some parts are heavy and weigh well over a ton, while others can be under 100 lbs. No matter how big or small the job is, Cynergy Ergonomics has a solution.
At first glance, one might assume a fuselage manipulator of this strength would require multiple people to operate; however, it's actually ran by a single individual. Using a radio control, the operator attaches the fuselage panel, lifts it to the desired height, and then rotates it either 90 or 180 degrees before landing it in the dunnage, storage pogo or position during final assembly. Moving around 2,500 lb panels has never been easier thanks to the Cynergy Ergonomics manipulator.
The Cynergy Ergonomics manipulator works through the use of a vacuum circuit that's activated by PLC logic. The operator presses a button identifying the specific panel type and the appropriate series of vacuum cups activate.
There are also multiple safety systems connected to the Cynergy Ergonomics fuselage manipulator which provide a reliable, safe operation in the event of power or component failure. It's not something workers like to think about, but power failures do occur. When it happens, workers want the peace of mind knowing that their machine isn't going to fail. Each and every fuselage panel manipulator built by Cynergy Ergonomics come standard with multiple built-in features to ensure the safety of workers in the event of a power failure. This is just one of the many reasons why so many workers place their trust in Cynergy Ergonomics.