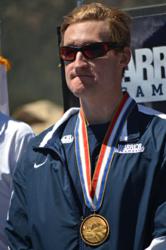 This experience brought my family together, and today we celebrate how we conquered adversity. My family is forever thankful for the Fisher House for helping us overcome the obstacles put forth by my injury.
Rockville, MD (PRWEB) May 10, 2013
Wounded Warriors participating in this year's annual 2013 Warrior Games presented by Deloitte will have family by their side to cheer them on, thanks to generous donations from Fisher House Foundation, which constructs comfort homes to provide free, temporary housing to the families of service members receiving medical care at Veterans Affairs and military hospitals around the world.
Two hundred and fifty five wounded warriors from the Army, Marine Corps, Navy/Coast Guard, Air Force, Special Operations, and the U.K. will compete in the fourth annual Warrior Games. The event will take place May 11–16, at the U.S. Olympic Training Center and U.S. Air Force Academy in Colorado Springs, CO. The Paralympic-style competition will include archery, cycling, shooting, sitting volleyball, swimming, track & field, and wheelchair basketball. Prince Harry is expected to attend several events at the 2013 games.
Fisher House will provide two round-trip airline tickets to every athlete participating in the games, to allow family members to accompany them to this important event, avoiding the cost of what could be, for some families, a very expensive cross-country trip.
In addition, Fisher House Foundation has partnered with the Bob Woodruff Foundation, Semper Fi Fund, Armed Forces Financial Network, America's Fund, Hope for the Warriors, Navy Safe Harbor Foundation, Operation Homefront, and the USO Warrior and Family Care to create an all-inclusive Family Program to provide the opportunity for these families to help their loved ones continue their healing process through participation in Warrior Games.
Navy Lt. Brad Snyder's family attended Warrior Games last year, flown in by Fisher House Foundation's Hero Miles program. His family was able to see Brad compete in swimming, nearly one year after an IED explosion caused him to lose his eyesight.
"One of the toughest aspects of my rehabilitation, and one that doesn't often get mentioned, was my family's adjustment to my visual impairment. It was very tough for my family to watch me suffer through recovery, and then struggle during rehab through even the simplest of tasks," said Snyder, who will be an honorary torch bearer at the Opening Ceremonies this year. "It was sports that allowed my family to see me succeed. Through sport I could show my family all of the ability I still have, as opposed to perpetually showcasing my disability. Running around the track with my brother, and swimming in front of a crowd that included my sister and mother was a priceless experience for my family, and was made possible by Hero Miles, and the Fisher House Foundation. This experience brought my family together, and today we celebrate how we conquered adversity. My family is forever thankful for the Fisher House for helping us overcome the obstacles put forth by my injury."
About Fisher House Foundation
Fisher House Foundation is best known for a network of comfort homes where military and veterans' families can stay at no cost while a loved one is receiving treatment. These homes are located at major military and VA medical centers nationwide, close to the medical center or hospital it serves. Fisher Houses have up to 20 suites, with private bedrooms and baths. Families share a common kitchen, laundry facilities, a warm dining room and an inviting living room. Fisher House Foundation ensures that there is never a lodging fee. Since inception, the program has saved military and veterans' families an estimated $200 million in out of pocket costs for lodging and transportation.
Fisher House Foundation also operates the Hero Miles Program, using donated frequent flyer miles to bring family members to the bedside of injured service members as well as the Hotels for Heroes program using donated hotel points to allow family members to stay at hotels near medical centers without charge. The Foundation also manages a grant program that supports other military charities and scholarship funds for military children, spouses and children of fallen and disabled veterans.