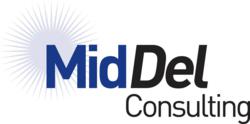 Minneapolis, MN (PRWEB) May 09, 2013
MidDel Consulting is a leading energy consulting firm headquartered in Minneapolis, Minnesota. MidDel provides industry-leading energy consulting services throughout the United States and Canada and has developed a significant presence in Texas.
MidDel recently announced the opening of the Company's Houston, Texas office. Sean Spector, Principal of MidDel's Energy Consulting Practice and Beth Blackwell, Director of MidDel's Energy Consulting Practice will lead the Houston office.
"It made sense for us to expand and open an office in Texas because of the high concentration of energy companies in that geographic area with which we do business," said Scott Levin, Managing Partner of MidDel Consulting.
Beth Blackwell, a Texas native, has over 15 years of energy consulting experience. She has acquired in-depth knowledge across multiple commodities including natural gas, crude oil, refined products, natural gas liquids, coal, and grain.
Sean Spector has over 15 years of business and system consulting experience predominantly in U.S. and Canadian deregulated wholesale and retail electric energy markets. Prior to joining MidDel Sean spent more than a decade with a leading U.S. consultancy that specialized in wholesale and retail energy trading, operations, and risk management. He consistently led successful teams and delivered complex, high value-add projects on behalf of his clients.
"Our team of consultants understands the entire wholesale and retail energy supply cycle," said Sean, "We are excited to leverage a physical presence in Texas where we service many prominent energy customers. We provide hands-on skills and extensive experience in bringing design, development, testing, and implementation solutions to our clients in the energy sector."
MidDel Consulting was founded in 2005 and has experienced considerable growth consulting with energy management software platforms including Zai*Net®/Aligne™, Openlink® Endur®, Triple Point® Commodity XL™, Allegro®, SAS® Risk Dimensions, nMarket®, LodeStar®, Business Objects®, Cognos®, and others. These represent the leading ETRM, ISO market operations, retail revenue cycle, and Business Intelligence software platforms for the energy industry.
For more information please contact:
Sean Spector, Principal
MidDel Consulting Energy Practice
sspector(at)middelgrp(dot)com
(416) 256-7772
Beth Blackwell, Director
MidDel Consulting Energy Practice
3200 Southwest Freeway, Ste 3300
Houston, TX 77027
bblackwell(at)middelgrp(dot)com
(713) 961-2822
About MidDel Consulting
Headquartered in Minneapolis, Minnesota, MidDel Consulting has been providing expert-level consultants for the Energy, Information Technology, and Finance sectors since 2005. MidDel specializes in supporting challenging projects utilizing the "best of the best" senior level consulting talent from the United States and Canada. MidDel's team of executives each have, on average, 25 years of functional and technical expertise in their fields.
For more information call MidDel Consulting at (952) 500-9340 or visit our website http://www.middelconsulting.com or email us at info(at)middelgrp(dot)com.