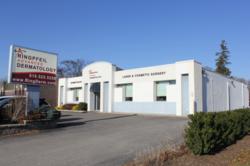 Uncompromised quality through
unmatched experience | focus on patient satisfaction | advanced technology
Philadelphia, PA (PRWEB) May 16, 2013
Ringpfeil Advanced Dermatology is the first in the Philadelphia and the Main Line area to offer the FDA approved, non-invasive miraDry® Procedure, the only noninvasive treatment option that provides a safe and lasting solution to excessive underarm sweat. The miraDry® Procedure delivers precisely controlled electromagnetic energy to the area under the arm where the sweat glands reside, and heats and eliminates the sweat glands. Since sweat glands do not regenerate, results are lasting. The 2-part procedure is non-invasive with little to no downtime, so many patients can go about their normal routines after treatment. Two treatments achieve maximum results and are spaced 3 months apart. For more detailed information about the miraDry® Procedure visit http://www.ringpfeildermatology.com/cosmetic-dermatology/sweat-treatment.php. Consultations may be booked online or by phone at 610-525-5250.
Primary axillary hyperhidrosis is a medical condition in which more underarm sweat is produced than is needed to cool the body. Millions of Americans suffer from excessive underarm sweat, and often suffer silently—ashamed, frustrated and embarrassed because excessive underarm sweat can interfere with many aspects of everyday life. For many, this condition is a constant struggle that causes anxiety at work, embarrassment in relationships and social settings, and avoidance of leisure activities.
"Excessive underarm sweat can be debilitating and it impairs quality of life," says Franziska Ringpfeil MD of Ringpfeil Advanced Dermatology. "I often see patients who are looking for more dramatic options to treat this condition. The miraDry procedure eliminates sweat glands in the underarm safely and non-invasively, so people can expect lasting results and stop excessive underarm sweat from interfering with their lives."
About Ringpfeil Advanced Dermatology
Ringpfeil Advanced Dermatology (http://www.ringpfeildermatology.com) provides premium general dermatology, cosmetic dermatology, dermatological and laser surgery to the Philadelphia, Main Line, and Delaware Valley area.
The practice was founded by Franziska Ringpfeil, MD, a board certified dermatologist with training in both the US and Germany as well as national and international recognition through lectures, peer-reviewed articles and many book chapters. She is assistant professor at Jefferson Medical College and the recipient of the prestigious Young Investigator Award by the American Academy of Dermatology.
Her practice provides uncompromised quality of care through experience, technology, and focus on patient satisfaction. To improve patient experience, the practice utilizes its 8000 sf facility as an art gallery that hosts work of prominent local artists.