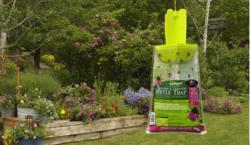 While it's commonly thought that pheromone traps lure beetles from miles around, the range of the RESCUE!® Japanese and Oriental Beetle Trap lure is no more than about 30 feet.
SPOKANE, WA (PRWEB) May 14, 2013
After a winter that seemed as if it would never end, gardeners and homeowners are reveling in spring's emergence. Trees, shrubs, lawns, and flowers have awoken and are alive and green. This could all change, though, with the appearance of Japanese and Oriental beetles. Trapping these pests, which feed on and destroy nearly every key feature in a landscape, is vital to maintaining a healthy yard and saving money on repairs and replanting.
The RESCUE!® Japanese and Oriental Beetle Trap from Sterling International, Inc. offers a safe and "green" alternative to chemical sprays targeting these bugs. Building upon research into beetle behavior and pheromone response, this trap captures both male and female beetles with a non-toxic mode of action.
While not the same insect, Japanese and Oriental beetles do overlap in their geographic locations and in their destructive behaviors. With a bright metallic-green body, the Japanese beetle can be easily spotted in its range from Maine to North Carolina and westward as far as Minnesota. The Oriental beetle, a black and straw-colored pest, is found primarily in New England and the Mid Atlantic states and is less easily noticed. Because it's hard to see, Oriental beetle damage is usually attributed to the Japanese beetle.
"These beetles are known to feed upon more than 300 different ornamental plants, plus turfgrass, nursery stock, and vegetable and fruit crops, " says Rod Schneidmiller, founder and president of Sterling International, Inc., a developer of environmentally friendly pest control products. "Their larvae and adult stages feed upon both above ground portions of plants as well as roots," Schneidmiller says. "They can be devastating not only to a home landscape planting and turfgrass, but to vegetable gardens and commercial enterprises as well."
How the RESCUE!® Trap Works
Years of research are the foundation of the RESCUE!® Japanese and Oriental Beetle Trap's efficacy.
"Its mode of action is the scientifically based controlled release of certain floral scents and the beetles' natural sex attractant, known as pheromones," says Schneidmiller, noting that both attractants are non-toxic substances. "Both the floral scents and the pheromones lure adult males and females of the targeted beetles."
A specially designed cone on the trap keeps the attractants out of the way of its human users without lessening its lure to the beetles.
"It's important to note that the trap doesn't kill the beetles, but captures and prevents them from flying away," says Schneidmiller. "They eventually die in the pouch due to a lack of food and water." What's key, Schneidmiller says, is that the trap captures the beetles before the adults can burrow underground and lay their eggs, which will become next year's adult beetle infestation.
The RESCUE!® Japanese and Oriental Beetle Trap's zippered bottom allows users to easily discard deceased beetles and reuse the trap. Being made of a highly durable, double-layered nylon product, this bag stands up to the effects of weather and time. Other highlights of the trap are its all-in-one design, welded construction, and capacity for holding a large number of beetles.
When and Where to Use
Japanese beetles begin their infestations and destructive behaviors at different times depending on region. In the southern states, the RESCUE!® Japanese and Oriental Beetle Trap is most effective when put into use by late May/early June. For the Midwest and Northeast, the trap should be set up by mid-June/early July.
"Proper timing and placement of the RESCUE!® Japanese and Oriental Beetle Trap ensures the destructive pests are nabbed before the damage begins," says Schneidmiller. While it's commonly thought that pheromone traps lure beetles from miles around, Schneidmiller says the range of the RESCUE!® lure is no more than about 30 feet. "Beetles are strong fliers," he explains, "so they can travel quite far in search of attractive gardens to eat. If there's something in your yard that's appealing, they'll drop in. That's when you want to be ready with your trap."
He suggests hanging traps at least 30 ft. from ornamental plants to lure the beetles away from what would otherwise be their next meal. The traps have a twist-tie hanger for suspension, either from a stake or post, ideally about 4 ft. above the ground. Tiny holes in the bottom of the bag allow water to drain during rainy weather while beetles stay safely trapped.
"From a time, money and effort perspective, RESCUE!® Japanese and Oriental Beetle Trap is an effective tool for homeowners, gardeners and commercial horticultural business in their efforts to prevent costly Japanese and Oriental beetle damage and destroy future generations of these pests," says Schneidmiller says.
Established in 1982, Sterling International, Inc. offers RESCUE!® traps and attractants for stink bugs, flies, Japanese beetles, Oriental beetles and more. Look for these products at home improvement centers, hardware stores and lawn and garden retailers throughout the U.S.
For more information and great tips, visit http://www.rescue.com or follow RESCUE!® on Facebook. Visit the site for a list of retailers near you.