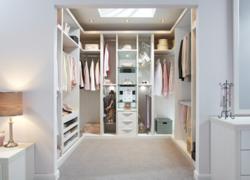 Strachan recommend when customers are thinking about investing in a dressing room or walk in wardrobe, their first consideration must be the amount of space they have available.
(PRWEB UK) 10 May 2013
Strachan Furniture Makers of Leeds has extended their range of luxury dressing rooms and walk in wardrobes by launching Ultimo, an ultra modern style in black and white, and available from Spring 2013.
Strachan's inspiration behind the new range was to make dressing for the start of each day extra special by including luxurious design details that make life easier. Features include hanging rails that can be pulled down to within easy reach, glass topped compartments to store and display favourite pieces such as handbags or jewellery, and concealed full length mirrors that slide effortlessly away to save space. All the shoe trays and drawers in the walk-in wardrobe or dressing room, feature soft close technology to ensure the peace and tranquillity of the room is not disturbed. Quality craftsmanship is evident in each design too, as all of Strachan's dressing room furniture and walk in wardrobes are hand crafted to the highest standard.
Dressing room or Walk in wardrobe?
Strachan recommends when customers are thinking about investing in a dressing room or walk in wardrobe, their first consideration must be the amount of space they have available. A dressing room doesn't have to be next door to the bedroom, as all dressing and grooming can be carried out in the dressing room. The new Ultimo dressing room furniture from Strachan includes a dressing table/grooming area with integral lighting that can be built in to any space. A made to measure seating island with drawers for further storage can also be included, adding the luxury of comfort to a very stylish room.
Where a customer has a more compact space or a smaller bedroom that can be partitioned off, then a walk in wardrobe is a more salient solution. An equally elegant walk in wardrobe can be made to include all the hanging and drawer space, overhead storage and shoe trays needed, freeing up space in the main bedroom for perhaps a sitting area for relaxation.
Secondly, say Strachan, customers need to think about their lifestyle. For those with outfits for every occasion, such as work, social, sports and formal, the wardrobe space can be created to provide separate areas for the different type of outfits. Even his and hers sections could be planned, making getting ready for any occasion easier and more of a pleasure.
Strachan has been making bespoke fitted furniture for four generations, and are committed to ensuring that the quality of their craftsmanship is matched by their service, which includes free design, planning and fitting. Once furniture begins production, clients are invited to Strachan's premises in Leeds to see their furniture being made. All Strachan furniture comes complete with a comprehensive 10year guarantee.
The new Ultimo Dressing Room and Walk in Wardrobes are available in a selection of finishes including the new Pearl and Aura finishes. Now available with Spring Savings together with all Strachan ranges.
For more details, clients are advised to arrange a free, without obligation, design consultation with one of Strachan's expert designers. Call free on 0800 212 637 or visit http://www.strachan.co.uk to find out more.