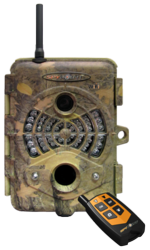 "Spypoint deserves their reputation as one of the leading trail camera manufacturers, and their new line up offers yet more impressive and class leading technology"- Adam Burtenshaw.
Cirencester, Gloucestershire (PRWEB UK) 10 May 2013
A wildlife camera can open up a whole new world of wildlife, allowing fans to monitor the nocturnal and daytime activities of animals as they have never seen before. Whether individuals want to film garden wildlife, monitor their livestock or game, or simply protect their property from intruders, the new 2013/14 range from leading and world renowned wildlife camera manufacturers Spypoint will have something for everyone.
In the 2013/14 range, Spypoint has advanced its technology once again and models come with a range of new and exciting features. The 2013 advance of REMOS, for example, is available on the top of the range models allowing users to log in remotely to view their footage - ideal for those looking to leave a location as undisturbed as possible. External motion sensors and infrared boosters have also been included in order to improve image quality and positioning.
Watching and successfully recording wildlife in a garden is often found to be incredibly rewarding, and with night vision technology in Spypoint Cameras, there is now the opportunity to record 24 hours a day. With television programs such as Springwatch and Countryfile regularly using wildlife cameras, people now have the chance to join in on the fun.
The new models, what they replace, and their features:
Spypoint HD-7 replaces the IR-7. Featuring 7 megapixels and HD video with sound.
Spypoint BF-8 replaces the BF-7. Featuring 8 megapixels, video with sound, black covert LED's, and 5 zone sensors allowing for fast trigger speeds and more centered images
Spypoint BF-10HD replaces HD-10. Featuring 10 megapixels, HD video, black covert LED's, 5 zone sensors, multi-shot mode, play back screen
Spypoint Tiny HD replaces Tiny D. Featuring 8. megapixels, HD video, 3 motion sensors, multilevel sensor system
The following range from Spypoint features a variety of image transfer technologies making them wireless and remotely accessible:
Spypoint Tiny 3HD - 10 megapixels, HD video with sounds, covert black LED's, REMOS compatible, 3 motion sensors, wireless control and backup up to 500ft
Spypoint Tiny W3 - 10 megapixels, HD video with sound, covert black LED's, 3 motion sensors, wireless control and backup up to 500ft, REMOS compatible,
Spypoint Live 3G Cellular- features 8 megapixels, HD video with sound, REMO compatibility, covert black LED's, 3G cellular transmission (which sends emails or texts, notifying when footage is taken), GPS tracking.
Spypoint Wifi- features 8 megapixels, viewing screen, REMOS compatibility, log in on a computer, tablet, or smart phone within a 500ft radius.
As with previous Spypoint models, users can control a number of devices using the mySPYPOINT service. This means that cameras can be setup in multiple locations and angles, recording all of the footage, and enabling online login and viewing.
About Camera-Shop.co.uk
Camera Shop is an online retail outlet specialising in photography equipment, night vision, spotting scopes/binoculars, and underwater photography. The company's friendly, knowledgeable assistants are always ready to answer customer queries with expert advice. Camera Shop staff use the products they sell which means customers get practical, relevant opinions and knowledge that's been gathered from hands on experience.
Camera Shop is also one of the biggest Yukon Night Vision and Pulsar Night Vision suppliers in the UK.