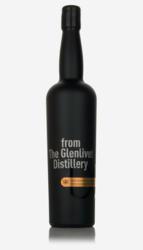 Customers can earn a chance to win this unique Single Malt Scotch Whisky, only 600 of which are available to the UK market.
(PRWEB UK) 9 May 2013
The Glenlivet Alpha was released on the 8th of May, 2013 without any details about the cask maturation or any tasting notes; even the colour of the whisky remains a mystery as the liquid is packaged in a solid black bottle. This release is quite unlike anything the whisky world has ever seen: the world's No.2 Single Malt Scotch will engage directly with consumers through social media and online experiences to help guide them on a journey to unlock the secrets of this intricate spirit.
Whisky enthusiasts and experts alike are encouraged to complete sensory challenges on The Glenlivet homepage and on Facebook. Whisky enthusiasts will also have an opportunity to interact with distillery insiders such as Master Distiller Alan Winchester on social media sites such as Facebook and Twitter and test their knowledge or gain a greater understanding as to which factors contribute to the whisky's final character and flavour.
As Alan Winchester states, "Flavour is a multi-sensory experience: one that combines the subtleties of sight and sensation in the mouth, in addition to taste and smell. By withholding information on the casks used to create The Glenlivet Alpha and encouraging people to use their senses, I hope they will gain a greater appreciation of its particular flavour, and expand their understanding of the great complexity and depth of our unique single malt whisky. I can't wait to hear people's reactions."
To celebrate the release of The Glenlivet's ground breaking new release, online retailer Master of Malt is giving away a bottle of the mysterious new expression. By purchasing any 70cl bottle of The Glenlivet from the Master of Malt website from 8th to 15th May, customers can earn a chance to win this unique Single Malt Scotch Whisky, only 600 of which are available to the UK market.
Customers will receive one chance to win for every bottle they purchase, and there is no limit of entries per person. A full list of the terms and conditions are available on the Master of Malt website.
Glenlivet Alpha – 50% – 70cl – £97.13
Tasting notes for The Glenlivet Alpha
All shall be revealed in June 2013.
The Glenlivet Alpha is now available from Master of Malt.
###
About Master of Malt:

Established in 1985
Master of Malt is one of the UK's leading Online Whisky & Spirit Merchants, with a huge range of whiskies, rum, brandies, gins, cocktails and many other fine spirits.
Online Retailer of the Year, Icons of Whisky 2012, 2013 & Drinks Retailing Awards 2013.
UK Next Day Delivery from £6.95
Follow Master of Malt: