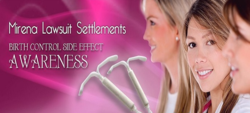 We will continue to file lawsuits on behalf of women who have been affected by the Mirena IUD's alleged side effects and fight for the damages they are owed
Houston, Tx (PRWEB) May 09, 2013
The Initial Conference for the Mirena IUD Products Liability Litigation* (MDL No. 2434, U.S. District Court for the Southern District of New York) will take place on May 17, 2013. During this conference, counsel will suggest procedures to facilitate an efficient, economical and just resolution for these cases as well as propose a schedule for pretrial activities.
"This conference will be the first step in getting justice for these women. The injuries they have suffered, allegedly due to the Mirena IUD, are serious and could impact them for the rest of their lives," said Darren Miller, principal of D. Miller & Associates, PLLC. "We will continue to file Mirena lawsuits on behalf of women who have been affected by the Mirena IUD's alleged side effects and fight for the damages they are owed."
The lawsuits* allege that Bayer Healthcare Pharmaceuticals overstated the efficacy of the Mirena IUD while understating the potential safety concerns of the device. Plaintiffs claim they suffered serious injuries after the IUD allegedly perforated the uterine wall and migrated from its original position, which resulted in surgery to have the device removed.
In 2009, the FDA cited Bayer for its Mirena promotions**, stating they were misleading and downplayed risks associated with the device. The lawsuits put forth that the company should have a warning on the IUD to make consumers aware of the dangers and possible adverse side effects. FDA citation is here.
Mirena was approved for contraception by the U.S. Food & Drug Administration (FDA) in 2000 ***. The small, plastic t-shaped device contains the hormone levonorgestrel and is inserted into the uterus by a healthcare provider, where it may remain for up to 5 years.
About D. Miller & Associates, PLLC:
Founded in 2002 by attorney Darren Miller, D. Miller & Associates, PLLC is a premiere national law firm with practice areas in personal injury, asbestos and mesothelioma, defective drugs and devices, business and criminal law. Based in Houston, Texas, the attorneys at D. Miller & Associates, PLLC, have successfully earned their clients compensation through aggressive litigation against even the most powerful of defendants. For a free legal consultation, contact the firm at 1-855-PRO-LAWYERS or at marketing(at)dmillerlaw(dot)com. For more information, visit our website at http://www.dmillerlaw.com.
Attorney advertising disclaimer: the attorney responsible for the content of this advertisement is Darren Miller. No representation is made that the quality of legal services to be performed is greater than the quality of legal services performed by other lawyers."
Source:
*US Judge Cathy Seibel ordered the scheduling of the initial Conference for the Mirena IUD Multidistrict Litigation for May 17, 2013
**http://www.fda.gov/downloads/Drugs/GuidanceComplianceRegulatoryInformation/EnforcementActivitiesbyFDA/WarningLettersandNoticeofViolationLetterstoPharmaceuticalCompanies/UCM197229.pdf
***http://www.fda.gov/newsevents/newsroom/pressannouncements/2009/ucm184747.htm