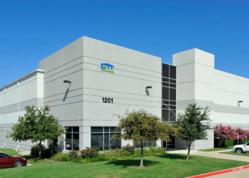 Denver, CO (PRWEB) May 10, 2013
Amstar, a Denver-based real estate investment manager, on behalf of one of its public retirement system clients, announced today the acquisition of 1201 Big Town, a 508,500 square foot Class "A" industrial property in Dallas, TX. Amstar partnered with Huntington Industrial Partners, a fully integrated industrial owner and operator, on the acquisition of the Property. The acquisition brings the Amstar and Huntington industrial portfolio to 2.2 million square feet across 14 properties throughout the Southeastern U.S. and Texas. The investment is part of Amstar's larger industrial strategy, which is focused on acquiring well-located, substantially leased properties that Amstar believes are undervalued, with the potential to provide high current income and attractive investment returns. Constructed in 2007, the Property is located at 1201 Big Town Boulevard within the East Dallas submarket of Mesquite, offering close proximity to Interstate-30 and Interstate-635. The Property is currently 100% leased to two strong national and global tenants.
"Amstar strategically acquired 1201 Big Town to further diversify the geographic concentration of the portfolio and to provide attractive current income that Amstar's client desires. Further, the acquisition of 1201 Big Town provides Amstar and its client the opportunity to expand into one of the top distribution markets in the country," said Amstar Senior Vice President Tricia Noble, who leads the firm's industrial investment platform.
"The 1201 Big Town facility is a state-of-the-art, well-located distribution facility. In addition to its proximity to major thoroughfares, it is also immediately adjacent to the Union Pacific intermodal facility, which is a key driver of logistics activity," said Huntington Industrial Partners President John W. Seiple Jr.
About Amstar
Established in 1987 and headquartered in Denver, Colorado, Amstar is a real estate investment manager that acquires, develops and manages office, multifamily, retail, hotel and industrial properties in select U.S. and international markets. Originally formed to invest and manage the real estate allocation of a large family office client, Amstar began expanding its capital strategy nearly a decade ago and has grown to more than $2.4 billion in assets under management (as of March 31, 2013). Today, Amstar is proud to provide a high degree of focus and attention to its client relationships, counting among them leaders in the private and institutional investment community. Amstar's clients originate from across the globe and include U.S. and European institutions, insurance companies, private banks, funds of funds, and other family offices.
About Huntington Industrial Partners
Huntington Industrial Partners is an industrial real estate operating company with a strategic focus on acquiring and developing infill industrial properties in select U.S. markets. Huntington has offices in Atlanta, Dallas, Denver and Southern California that are staffed by local teams with extensive industrial experience, local market knowledge and established networks of market contacts.