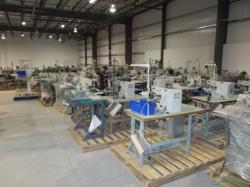 Over 100,000 yards of fabrics and more will be auctioned!
Chicago, IL (PRWEB) May 09, 2013
The upcoming auction will include approximately 220 sewing machines, eyelet machines, snap machines, seam sealers, fusing machine, straight knife machines, fabric cutters, grommet machines, web cutters, sewing side tables, die clickers, forklift, air compressors, packaging equipment, maintenance shop equipment, large quantity of scrap Kevlar material, huge fabric and materials inventory and much more.
The Jefferson City, Tennessee location has over 140 sewing machines including; Brother, Juki, Pfaff Single Needle, Yamato, Reece, Mitsubishi, Rimoldi, Shingling and more. Other items including with the sewing machines include; large quantities of Kevlar natural and impregnated fabrics, nylons, webbing, Velcro, zippers, snaps and much more.
The Dunmore, PA location has over 80 sewing machines including; Brother, Juki, Consew and Reece machine models. Other items include an estimate of 100,000 yards of fabrics, sewing related equipment and much more.
The live/webcast auction will be held on May 16, 2013 starting at 10:00 AM EDT at the Jefferson City, TN location. All materials and equipment are located at 488 Municipal Drive, Jefferson City, TN and 150 E. Grove Street, Dunmore, PA. Inspection will be Monday, May 13th through Wednesday, May 15th at both locations from 9:00 AM to 4:00 PM EDT.
To register for the sale, please visit hyperams.com. If you have any questions regarding the sale, please give us a call at (847) 499-7049.
About HYPERAMS, LLC
The HYPERAMS Asset Disposition Team focuses on investing in the excess assets of healthy and distressed companies operating in the middle market and below. HYPERAMS' Appraisal Team provides valuations of machinery and equipment in most industry verticals, and of consumer product inventory.