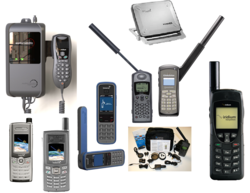 (PRWEB) May 09, 2013
GlobaFone, a leading comprehensive satellite service provider, announced that CEO Lou Altman will put on a free webinar: Why Paying the Lowest Price Costs You the Most. Join him Friday, May 17th as he presents case studies of how the 'lowest price' actually costs the buyer more than expected. From single handsets to packages to misleading solutions, Lou draws out the real pitfalls of buying based only on the lowest price.
"With much going on, industry professionals need to keep up to speed," said Lou Altman, "Webinars are a great learning vehicle for busy professionals and our webinars have always proven most popular."
The content of this webinar will include: what is missing in lowest price bids (something always is), why functionality is so much more important than price and how 'technically acceptable substitutes' really aren't.
This webinar is designed for anyone who is involved in buying SatCom or setting specifications for a future purchase. From telecom buyers and managers to contracting officers, from novice to industry veteran, there is something for everyone on this webinar. You'll have a better understanding of how buying SatCom for your organization can be simple and truly the lowest cost, not just the lowest price.
Lou's energetic style has earned him rave reviews. By blending anecdotes and humor into facts and figures, Lou engages his audiences in a relaxed atmosphere, creating a memorable experience so you retain more of what you learn. This webinar is a 'must-attend'!
Date: Friday, May 17, 2013
Time: 2:00 PM - 3:00 PM EST
Register now: https://www4.gotomeeting.com/register/147392815
About GlobaFone:
GlobaFone of Portsmouth, NH is an award-winning, leading service provider of satellite voice and data solutions to Federal, State and Local Governments, and corporate clients. GlobaFone solutions include five brands of satellite communications – Iridium, Inmarsat, Globalstar, Thuraya and VSAT. GlobaFone provides cellular service for rent or lease with coverage across the planet.