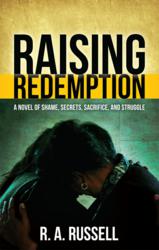 The story of 'Raising Redemption' achieves an epic sweep yet retains an intimate, personal address, with a lively, direct style that will keep you turning the pages.

— James Morrison, author
LOS ANGELES, Calif. (PRWEB) May 08, 2013
They warned her about the boy. He came from the Samson family, whose men brought ugliness and disgrace to the Tilman women for generations. But 17-year-old Alicia Tilman didn't stay away — and her resulting pregnancy would reveal the greatest Tilman family secret: Alicia's father, Ben, is the bastard son of Richard Samson, brought to this world from rape and humiliation. "Raising Redemption," an elegant, rich family saga, is now available wherever books are sold.
"Raising Redemption," its roots in 1975, is a stirring and provocative novel of the shame, secrets, sacrifice, and struggle of the Tilmans, an African American family who had worked to establish a name synonymous with respect, honor, and dignity. Ben Tilman was a symbol of redemption to the Tilman women: a revered doctor, a loving father and husband. A man who defied all preconceived notions of what a bastard son of a hated man would become.
"Raising Redemption" chronicles four generations of Tilmans as they search for the things that will relieve the pain of the past. "Raising Redemption" brings readers on a journey to discover the ultimate gift of love and the true legacy left for the Tilman women to embrace. It is a sweeping tribute to the salvation that can only be found from within.
"… The story of "Raising Redemption" achieves an epic sweep yet retains an intimate, personal address, with a lively, direct style that will keep you turning the pages. By turns suspenseful and moving, this tale of adversity and triumph — and above all the indomitable power of familial bonds — will inspire many readers."
— James Morrison, author of Said and Done and Everyday Ghosts
About the Author
R. A. Russell is a practicing business-law attorney in Los Angeles, CA. Russell holds degrees from Claremont McKenna College and Harvard Law School.
Book specs:
Raising Redemption by R.A. Russell
Langdon Street Press/ Paperback: $15.95; 526 pages; ISBN: 978-1-62652-041-1; May 7, 2013