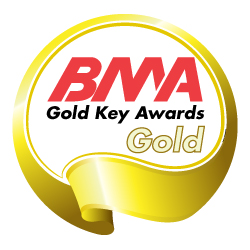 As we continue to see excellent results from client content campaigns, we become more and more certain that producing high-quality, engaging content that provides actual value and utility to consumers is the key to moving consumers down the sales funnel
Denver, CO (PRWEB) May 09, 2013
Many of Colorado's top advertising and marketing professionals gathered at the Seawell Ballroom on April 26 for the Business Marketing Association Colorado (BMA Colorado) Gold Key Awards, but only a handful left with the top honors. Location3 Media, a rapidly growing digital agency based in Denver, won a Gold Key Award for an in-depth white paper that provides practical tips and big-picture strategies for marketers to capitalize on the growing integration between digital channels.
"To win a Gold Key is impressive and significant. It is a fiercely competitive program that truly recognizes the very best in business-to-business marketing for 2013," stated Marilee Yorchak, CAE, Executive Director, Colorado Business Marketing Association. "With our emphasis on results and the quality of entries, the BMA Gold Key Award is one of the most coveted by marketers in Colorado."
Location3's winning white paper, A Convergence of Channels: The Intersection of Social, SEO & Local follows one consumer traveling over the course of their buying journey: from interest to research, recommendation to validation and decision to advocacy. The paper covers how to use paid search keyword research to inform content strategy, how and why to utilize Google+ for improvement in local search visibility and how social media indicators, personalized search results, paid search metrics and rich content influence search engine optimization.
The creation of a quarterly white paper is an important part of Location3's overall content marketing initiative. This strategy includes frequent blogging, active participation in social media and producing insightful content in the form of instructional videos and white papers.
"As we continue to see excellent results from client content campaigns, we become more and more certain that producing high-quality, engaging content that provides actual value and utility to consumers is the key to moving consumers down the sales funnel to conversion and, ultimately, to brand advocacy," said John Harris, Chief Strategy Officer for Location3 Media.
A Convergence of Channels achieved the goals set at the beginning of the project including social media engagement, driving leads and promoting Location3 Media as a leader in the digital marketing field. The white paper had a 32 percent conversion rate with readers coming from a wide variety of channels including Facebook, Twitter, LinkedIn and the Google Display Network, showing that the outreach strategy employed to increase reach was effective in driving engagement using multiple digital platforms.
This content piece has been a critical asset at industry events, including the International Franchise Association and Direct Marketing Association annual conventions. From a business development perspective, the white paper has resulted in half a dozen qualified leads that wouldn't have considered Location3 Media prior to engaging with the content.
For more information contact Josh Allen: jallen-at-location3.com | 720.763.3151
About Location3 Media:
Location3 is a digital marketing partner built to improve the findability and performance of consumer and multi-unit retail brands through enterprise-level and local digital marketing solutions. Founded in 1999 and located in the heart of Denver, Location3 has a staff of 80 full-time employees who service global, national and local brands. More than half of Location3's client base has worked with the agency for at least three years, as Location3 improves the findability and performance of every client they partner with.
About BMA Colorado:
Dedicated exclusively to the discipline of business-to-business marketing, the Colorado chapter of the Business Marketing Association (BMA) is the premier organization for marketing professionals in the region. Its membership is comprised of more than 475 business-to-business marketing practitioners employed by the region's leading corporations, agencies, suppliers, and small businesses. As one of the largest marketing organizations in the region and the largest BMA chapter in the country, BMA Colorado enriches the professional lives of its members by offering unparalleled opportunities for education, networking, and recognition, as well as exclusive access to industry resources and services. To learn more about BMA Colorado, visit http://www.bmacolorado.org.