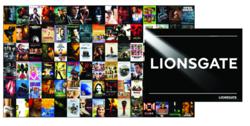 New York, NY (PRWEB) May 14, 2013
CanAm Enterprises, LLC ("CanAm") is pleased to announce that Lionsgate Entertainment, Inc. repaid its $65.5 million EB-5 Partnership Loan to CanAm's Pennsylvania DCED Regional Center. This marks the 17th CanAm Regional Center project that has been repaid in full and on time. All 131 investors and their family members received permanent green cards as a result of Lionsgate's job creation.
Lionsgate is one of the premier independent producers and distributors of motion pictures, television programming and video content in the U.S. and abroad. The $65.5 million EB-5 Loan partially funded a series of motion picture productions and several television shows that were filmed in the Commonwealth of Pennsylvania.
Dawn M. Keezer, Executive Director of the Pittsburgh Film Office, stated "EB-5 financing was instrumental in Lionsgate's decision to produce multiple feature film projects in the region. The project also had a positive impact on the economy and lead to substantial job creation."
Administered by the United States Citizenship and Immigration Services (USCIS), the EB-5 Program provides opportunities for qualified foreign nationals to achieve permanent legal residency in the U.S. through an investment in an USCIS-approved project that will generate at least ten full-time jobs in the United States.
About CanAm Enterprises, LLC
With over 25 years of experience promoting immigration-linked investments in the United States and Canada, CanAm has a long and established track record. Based on a reputation of credibility and trust, CanAm has financed 40 project loans and raised over $1.3 billion in EB-5 investment funds to date. In addition to the Pennsylvania DCED Regional Center, CanAm exclusively operates four government-affiliated USCIS-designated Regional Centers that are located in the City of Philadelphia, the County of Los Angeles, the State of Hawaii and the North Country Region of Plattsburgh, NY. For more information, please visit http://www.canamenterprises.com.
About the Pennsylvania DCED Regional Center
Designated by USCIS on April 13, 2007, the Pennsylvania DCED Regional Center is a partnership between CanAm Enterprises and the Pennsylvania Department of Community and Economic Development (DCED), a non-profit economic development agency of the Commonwealth of Pennsylvania. Projects offered by the Pennsylvania DCED Regional Center are located in 43 counties within the Commonwealth of Pennsylvania, and target such industries as health care, higher education and manufacturing. To date, the Pennsylvania DCED Regional Center has raised over $260 million in EB-5 funding. For more information, please visit http://www.state.pa.us