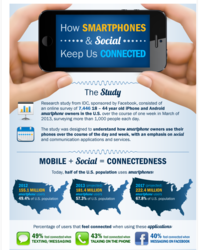 ANDOVER, Mass. (PRWEB) May 13, 2013
Effective Student Marketing has released a new infographic that details important information about how today's prospective students are using their smartphones in their daily lives. This is a great resource for professionals in the higher education industry who are constantly looking for new ways of connecting with their target audience and modernizing their lead generation strategies.
The infographic, titled "How Smartphones and Social Keep Us Connected", was created from data collected from IDC's research study, which was sponsored by Facebook. For the study, IDC surveyed over 7,000 smartphone users, ages 18 to 44, over the course of one week in March 2013. The study aimed to understand the how smartphone users are using their devices throughout the week, and specifically how they're using the social and communication applications on their phones.
The key finding in the study was that smartphones have revolutionized the way we communicate, socialize, share, and connect. Smartphones, combined with the social and communication applications, allow us to stay connected with our friends, family, and community throughout the day. It's vital for admissions departments to understand and embrace these new trends moving forward in order to continue to reach their student lead goals in an increasingly competitive marketplace.
The "How Smartphones and Social Keep Us Connected Infographic" from Effective Student Marketing breaks down the data from this study on to a graphic that's visually appealing and easy to understand. Here's what you'll find in this new infographic:

The percentage of Americans currently using smartphones and the percentage predicted to be using smartphones in the near future.
The most popular time of day that Americans are spending on their smartphones and the average length of time.
The most popular daily activities associated with smartphone usage.
The top 10 smartphone activities and applications that Americans are using.
Other groups of social circles that Americans commonly use their smartphones to stay connected with outside their immediate family and friends.
You can view the full infographic on the Effective Student Marketing website.
Effective Student Marketing specializes in social media marketing in the higher education industry. The team at Effective Student Marketing creates customized social media marketing campaigns to help schools achieve their enrollment, retention, and placement goals. In addition to social media, the Effective Student Marketing offers other services including search engine marketing, content creation and distribution, web design and optimization, reputation management, and cost-per-lead management. You can find more information about their services at http://www.EffectiveStudentMarketing.com.