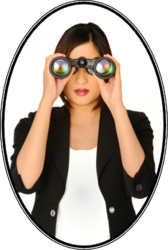 ... delights in catching people goofing off.
Anchorage, Alaska (PRWEB) May 08, 2013
Lynne Curry, Ph.D., SPHR (CEO of The Growth Company, Inc.) has over 30 years of experience in management consulting and frequently receives questions from clients regarding situations in the workplace. Today, Dr. Curry releases an article directed toward employers that have an office "vigilante" on their hands.
Dr. Curry received this message from a client: "One of our employees has been using his cell phone to snap others' pictures over the cubicle walls. He considers himself the "Robin Hood" of employee misdeeds and delights in catching people goofing off. This morning he posted on the lunchroom bulletin board a snapshot of our A/P clerk manicuring her fingernails on company time. At first I thought this was funny and also appreciated his documenting employees who should know better than to waste time, but the A/P clerk got pretty upset and told me that if I don't confiscate his camera she will."
Find out how Dr. Curry responds!
Click here to read the full article.
The Growth Company, Inc. is a Human Resource and Management consulting firm specializing in soft skills training, facilitation and mediations as well as investigations, coaching and manual/policy write ups and re-writes. The Growth Company, Inc. was established in 1978 and is one of the longest lasting consulting firms in Alaska. For further information about The Growth Company or Dr. Lynne Curry click here. The Growth Company also has a Workplace Coach Blog, where Dr. Lynne Curry and other HR professionals post about everyday situations that a manager or supervisor may come across. They provide insight and the correct way to approach and handle these situations.