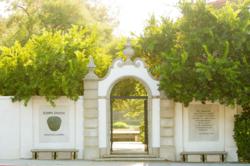 Claremont, Calif. (PRWEB) May 08, 2013
Two Scripps College juniors have been awarded two separate Donald A. Strauss Public Service Scholarship Foundation grants that will take economics major Ei Phyu Theint '14 to Myanmar this summer to work with ethnic youth leaders and will support American studies major Natasha Magness's '14 efforts of helping gay, bisexual, transgender and lesbian evangelical youth in Orange County.
Both projects are deeply personal for each student. Theint is a Myanmar national who is studying in the United States, at Scripps College. Magness is a lesbian evangelical from Orange County who transferred to Scripps after attending a more conservative university her first two years of college.
Magness proposes to host a series of educational events in the 2013-2014 school year for gay, bisexual, transgender and lesbian evangelical young adults in Orange County who are "caught in a cycle of loneliness and spiritual conflict. My goal is to offer LGBT students and congregants in religious institutions a safe space to combat feelings of isolation," she said.
Theint aims to identify and train seven to nine ethnic students in Myanmar who have demonstrated an ability to initiate and follow through on community projects. She proposes to create a program that will "train and mentor economically disadvantaged ethnic youth who have a strong interest in community development," she said. "This is one way to narrow the gap between the rich and poor and to relieve the frustration of ethnic nationalities in Myanmar."
The Donald A. Strauss Public Service Scholarship Foundation was created as a memorial to the late Don Strauss, who demonstrated a strong, lifelong commitment to public service and education. Each year, the foundation awards $10,000 scholarships to no fewer than 14 California college juniors who've reflected a similar commitment to public service.