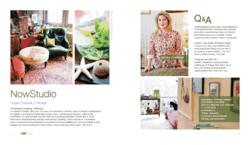 (PRWEB) May 10, 2013
Nourhy Chiriboga, an Intuitive healer, will be featured in the 3rd edition of Crave Chicago, a book highlighting entrepreneurial women in Chicago. Crave is a curated collection of shops and businesses of women in book form of over 20 cities in the US and Canada.
Nourhy has been practicing healing and intuitive work in Chicago for over 13 years and has a loyal following of people that appreciate her brand of holistic wellness and insight. She has been featured in Today's Chicago Women, DailyCandy Chicago, Chicago Tribune and Mindful Metropolis Magazine.
Nourhy transitioned into working in the healing arts after experiencing years of chronic pain following a major car accident, which resulted in a near death experience which changed the course of her life. She set upon a course to heal herself and uses many of the techniques to heal others. She has a natural ability to sensitively attend to each of her clients on a holistic level, attuning herself to the spiritual and emotional aspects of each treatments. Clients looking for treatments that go beyond the spa or salon experience will appreciate the individualized approach offered by Nourhy, who uses energy to tap into areas of the body that need the most healing.
Nourhy takes care to crate a mindful experience that meets the needs of each unique person who visits NowStudio. An intuitive and healer, Nourhy uses bodywork as well as a range of other restorative techniques and remedies to help others feel happier, healthier and more balanced in their lives. She has a diverse training background in massage and energywork as a Reiki Master. Nourhy has studied Craniosacral Therapy, Reflexology and is a nationally certified Massage Therapist.
The 3rd edition Crave Chicago Edition is to be released sometime this summer.