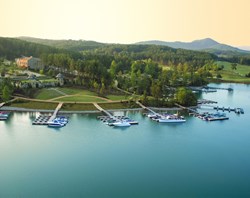 Host of the BMW Charity Pro-Am presented by SYNNEX
Greenville, South Carolina (PRWEB) May 08, 2013
Add next week's nationally televised BMW Charity Pro-Am presented by SYNNEX golf tournament to the long list of charities The Reserve at Lake Keowee Foundation supports, a community driven organization supporting local charities in Western South Carolina. On May 16 - 18th, America will have a chance to peek into the good life at this Western South Carolina lake community bordering 18,500 acre emerald green Lake Keowee. The first three rounds of the tourament will be at The Reserve at Lake Keowee named Best for Boating by Links. Greenwood Communities and Resorts began development of this award winning gated community back in the late 1990's.
The Reserve at Lake Keowee won Real Estate Scorecard's 2012 Bliss Award for Best Lake Community of the Year.
The BMW Charity Pro-Am presented by SYNNEX will take place on the community's Jack Nicklaus Signature Golf Course, an 18 hole velvety green golf course overlooking Lake Keowee and the Blue Ridge Mountains. The BMW Charity Pro-Am presented by SYNNEX has raised more than $9.25 million dollars for 150+ charities over the years. This year's purse totals $650,000. In addition to being the gracious host of this event, The Reserve at Lake Keowee contributes a portion of its real estate sales, via its Charitable Foundation, to local charities, having raised more than $35,000 in 2012 with expected increases this year, thanks in part to the BMW Charity Pro-Am presented by SYNNEX. More upcoming foundational events at the community include the Jazz by the Lake Concert and the The Charitable Foundation Golf Classic scheduled for October 22.
Real Estate Scorecard had the chance to leisurely explore The Reserve at Lake Keowee's golf course last fall from a spectator's point of view. Only a small number of homes can be seen from the course. The Arts and Craft architectural styles feature natural element materials such as Old World stone and timbers. Approximately 250 homes have been built to date of 1,600 homes planned. High Grove is the community's newest neighborhood with English Garden Homes priced from the low $400,000's. Village Point, a cottage home neighborhood bordering the waterfront Marina Park, is almost sold out.
The good life here combines resort-style lakefront living in an outdoor lover's paradise. Off on the horizon, the layered Blue Ridge Mountains. Community amenities include a 200 slip marina, the Great Lawn, a 20,000 square foot Orchard House, Lakefront Pool Complex and Grille in the community's European style village, tennis courts, fitness center and 5 1/2 miles of manicured hiking trails that connect all the neighborhoods and amenities. When club members are not actively fund raising and gifting their time to charities like the BMW Charity Pro-Am presented by SYNNEX, it's an almost certainty, they can be found enjoying their piece of paradise they've found at The Reserve at Lake Keowee, one of the finest South Carolina lake communities Real Estate Scorecard has reviewed.
For more information about The BWM Charity Pro-Am presented by SYNNEX or The Reserve at Lake Keowee, contact http://www.bmwcharitygolf.com or http://www.ReserveatLakeKeowee.com
About Real Estate Scorecard:
Real Estate Scorecard writes unbiased real estate reviews providing in-depth information about popular master-planned communities in Florida, Georgia, North Carolina, South Carolina and Tennessee, all in an effort to help people discover where to retire in the Southeast. Website address: http://realestatescorecard.com.