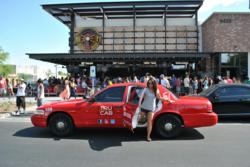 As far as Tru Cab knows, it is the only cab company in the world that offers Android tablets (with full internet) in the back of cabs for the customers to use.
Scottsdale, AZ (PRWEB) May 09, 2013
Fed up with the lack of quality transportation services from metro area that invests billions into it's tourism economy, Phoenix native Eric Mulvin and local UTI graduate Larry Loe started Tru Cab from their apartments. One year and 10 cabs later, Eric and Larry believe they have the right ingredients to turn their taxi business into a Phoenix household name.
At just 28 years old, both Eric & Larry are getting used to people doing double takes, but not for what one would expect. "When we meet with people in person there is always that initial look of surprise on their face because they are expecting someone older, then that look comes back again when we tell them our services and come though on our promises," said Eric Mulvin.
For starters, if a customer is going to the airport before 9:00 a.m., Tru Cab offers free coffee and donuts for everyone in their party. After hearing about so many new customers trying Tru Cab because their cab never showed up for a pickup in the past, Tru Cab also started offering to have the driver call 30 minutes before pickup time to give customers peace of mind that the driver is in fact on the way.
Another point of pride for Tru Cab is that since most people these days have smart phones, Tru Cab dispatches rides out to its drivers via an Android or iPhone app. "Our drivers love it and the lack of all that bulky dispatch equipment is one of the first things a customer notices when they get in a Tru Cab," said Larry Loe who also manages the expanding fleet. "Customers are used to seeing that outdated equipment in the front when everything can be done via a smart phone." Also with that smart phone, drivers accept credit card payments though the popular payment app Square, customers just sign with their finger on the screen and then they can have the receipt emailed or text to them on the spot.
As far as Tru Cab knows, it is the only cab company in the world that offers Android tablets (with full internet) in the back of cabs for the customers to use. "Once you get beyond the novelty of having a tablet in all the cabs, there are some really practical uses for them," commented Mulvin. "Customers can control the music with the tablets, they can look up a great restaurant on Yelp for dinner, watch YouTube videos, even post photos on our @TruCab instagram account."
For Tru Cab owners Eric and Larry, the most satisfying thing isn't seeing their cabs around town but helping drivers provide for their families. "I drove a cab for a year before starting Tru Cab and it's a tough industry. Many drivers for other companies work 16 hour days just to go home with $50, and that is if they are lucky," said Larry. Eric agreed adding, "I find it humbling to know that already one year into this and there are 10 great drivers who love what they do and are able to provide for themselves and their families. We continuously tell our drivers that it's our goal to make sure a Tru Cab driver is the best paid cab driver in Phoenix, because if we take care of them, they will take care of our customers."
About Tru Cab
Tru Cab LLC was founded by Eric Mulvin and Larry Loe in 2011 in Old Town Scottsdale. With an emphasis on customer service, technology, honesty and taking care of the drivers who make up the face of Tru Cab, Tru Cab's goal is to redefine what people think a cab ride should be like. Based in the East Valley but offering Valley wide service from Glendale and Peoria all the way to Mesa, Chandler, Gilbert and of course Scottsdale, Tru Cab is quickly expanding. Tru Cab also operates Tru Limo AZ, which provides luxury transportation. Customers can book via http://www.trucab.com or by calling (480) 300-5000. For more information on Tru Cab please visit http://www.trucab.com
Media Contact:
Eric Mulvin
1535 E University Dr.
Mesa, AZ 85203
(480) 256-8781
eric(at)trucab(dot)com
http://www.trucab.com/press
###