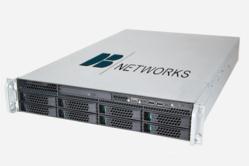 We developed the ADF-4200 to address advanced SQL injection and database denial of service threats.
San Diego, CA (PRWEB) May 09, 2013
DB Networks, an innovator of database security equipment, today announced it is the exclusive Diamond Sponsor of the Fifth Annual Information Security Summit, May 21, 2013 in Los Angeles at the Universal City Hilton. Spencer Greene, DB Networks VP Product Management, will speak at 3:20 on the topic of "Behavioral Analysis - Next Generation SQL Injection Threat Detection".
"The Summit is an excellent educational forum and encourages interaction among business executives, technical IT personnel, and information security practitioners," said Brett Helm, CEO of DB Networks. "We are excited to sponsor this event and look forward to showcasing our recently launched ADF-4200 adaptive database firewall which uses complex behavioral analysis to identify advanced database threats such as SQL Injection and Database Denial of Service."
About DB Networks
DB Networks is innovating complex behavioral analysis technology for database security. Developed for organizations who need to protect their data from advanced attacks, DB Networks ADF-4200 Adaptive Database Firewall is an effective countermeasure against SQL Injection and database Denial of Service attacks. Unlike traditional database security solutions, which require extensive user customization, as well as time-consuming white list/black list maintenance, DB Networks behavioral analysis technology automatically learns each application's proper SQL transaction behavior. Any SQL transaction which subsequently deviates from the behavioral model immediately raises an immediate alarm as an attack. This approach has proven to be highly accurate and able to identify extremely advanced database attacks. DB Networks is a privately held company headquartered in San Diego, California. For additional information, please visit us at dbnetworks.com.
About ISSA-LA
The Los Angeles Chapter of the Information Systems Security Association: ISSA-LA is the premier catalyst and information source in Los Angeles for improving the practice of information security. The Chapter conducts outreach programs to businesses, financial institutions, nonprofits, governmental agencies, and consumers. ISSA-LA is the founding Chapter of the Information Systems Security Association, an international not-for-profit organization of information security professionals and practitioners. For more information visit: http://www.issa-la.org