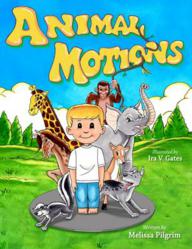 Pensacola, FL (PRWEB) May 09, 2013
May is National Physical Fitness and Sports Month, and a new children's picture book, written by Melissa Pilgrim and illustrated by Ira V. Gates, aims to combine story-telling with exercise in a unique way to get kids "moving in May" in a "creatively fit" way. Published by Indigo River Publishing, ANIMAL MOTIONS combines imagination, reading, and movement with the intention of making fitness fun—at home or in the classroom.
Inspired by the author's theatre classes with young children, ANIMAL MOTIONS is a low-impact movement routine told as a story. It follows five-year-old Eric as he stretches and moves his body at the start of his day by using his imagination to become some of his favorite animals. The reader travels with him to the jungle, the desert, the forest, the ocean—and is encouraged to mimic moving like a variety of animals along the way. Illustrator Gates' full page watercolor illustrations help to guide the child's imagination.
According to Pilgrim, ANIMAL MOTIONS has two objectives. "First, it shows children how to move and stretch their bodies to help them develop healthy lifestyle habits, stay active, and be more confident with how their bodies move overall," she says. "Second, it teaches children how they can be creative and use their imagination as they pretend to be different animals living in various habitats. It was written to show kids everywhere how using their imaginations can help make moving their bodies even more fun!"
The book can be read and acted out at home, but it also seems to be an ideal fit for both schools and libraries, especially during National Physical Fitness and Sports Month where the motto is "Move in May!" The book is sure to get kids moving, and there are six free lesson plans for teachers, caregivers, and parents for both preschool and kindergarten children -- in the categories of Health & Fitness, Drama, and Biology & Geography -- available on the book's website AnimalMotions.com. There is also a free mini-poster there for kids to print out and color.
The author, Melissa Pilgrim, has over 15 years of experience writing for projects in all mediums—film, TV, theatre, and book publishing. The illustrator, Ira V. Gates, has over 25 years of experience working as a graphic artist for both newspapers and magazines. Indigo River Publishing published this book as part of their effort to offer quality books to parents and teachers that help teach children healthy lifestyle habits while encouraging their passion for reading, being active, and using their imaginations. The book is available at Amazon.com and IndigoRiverPublishing.com. For more information visit AnimalMotions.com.