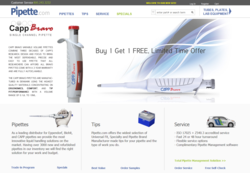 San Diego, CA (PRWEB) May 09, 2013
Leading distributor of pipettes to clients worldwide, Pipette.com has re-launched their popular website. The new website improves visitor's navigation experience and ensures that users gain access to additional resources that will help guide them in making the best product selection for their unique requirements.
One of the leading advantages users will receive by utilizing the new site is that they will gain access to an entire range of information concerning pipette products, pipette tips and pipette calibration services. Within this information, site users will find details on best product-usage techniques, ideal pipette calibration and pipette maintenance services, and latest product innovations ensuring that all users have a one-stop resource for their unique working needs.
As a liquid handling partner to the Life Science industry, Pipette.com wants to create an environment where customers get true product solutions not just another pipette or tip that a sales rep needs to sell. The new website accomplishes that feat by effectively demonstrating the latest products and technologies from the most prominent manufacturers within the industry today including; Eppendorf, Biohit, Brandtech, CAPP and many others. As well as pipette brands, users will find that the new site has a greater range of pipettes tips concentrating on universal fit, specialty and pipette manufacturer specific tips and plenty of accessories from which to select.
Another key addition to the new Pipette.com website will be company promotions. The organization will be introducing a new suite of promotions in 2013 and their new site will act as the hub through which users can gain access to the latest information concerning promotional opportunities currently available through the company and offers that are due to be implemented in the future.
Learn more about Pipette.com and their new website at http://www.pipette.com. As the North American leader for high quality pipettes, pipette tips and calibration service Pipette.com provides years of industry experience to deliver consistently superior solutions to the industry.
Contact Info:
Pipette.com
9212 Mira Este Ct.
San Diego, CA 92126
Phone: 1-800-243-3232
Fax: 1-858-3342
Email: info(at)accuteklab(dot)com