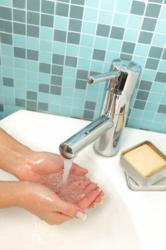 For consumers on private wells, consider testing your well for pesticides, organic chemicals, and heavy metals before you use it for the first time. Test private water supplies annually for nitrate and coliform bacteria
Santa Cruz, California (PRWEB) May 09, 2013
After water enters a home, conditions in the home plumbing system can affect the water's quality. "Our water providers work very hard to be sure that the water leaving the treatment plant meets all federal and state standards," said AWWA Executive Director David LaFrance. "As consumers, it's up to us to help protect that water quality by maintaining our homes' pipes and faucets."
To assist homeowners, AWWA has provided these top tips for maintaining water quality at home:
1. Clean faucets and aerators regularly
2. Clean and disinfect sinks and drains regularly
3. Keep drains clear and unclogged
4. Use cold water for drinking and preparing food
5. Replace old plumbing and install certified "lead free" fixtures
6. Flush cold water taps after household plumbing work or when the water hasn't been used for several days
7. Drain and flush your hot water heater annually
8. Follow the manufacturer's instructions for the water heater, filters, treatment devices, softeners and any other products attached to the water system
9. Do not connect hoses or other devices intended for non-drinking purposes to household drinking water faucets
10. Keep hazardous chemicals and unsanitary materials away from drinking water faucets
Additional information about maintaining water quality at home is available at DrinkTap.org.
For consumers who get their water from a private water source such as a well or spring, this is a good time to do the annual water test recommended by U.S. EPA. "We recommend consumers on private water wells follow the EPA recommendation to test private water supplies annually for nitrate and coliform bacteria. For those near service stations, agriculture area, or industrial areas, additional tests should be done to make sure no harmful chemicals or metals are present," said Gerry Bulfin, Certified Water Specialist with Clean Water Systems.
Additional information for private well owners is available at EPA.gov.
About Drinking Water Week
For more than 35 years, AWWA and its members have celebrated Drinking Water Week – a unique opportunity for both water professionals and the communities they serve to join together to recognize the vital role water plays in our daily lives. Additional information about Drinking Water Week, including free materials for download, is available on the Drinking Water Week web page.
Established in 1989 Clean Water Systems & Stores Inc specializes in water treatment of contaminated private well water systems in North America and has over 8000 customers in over 30 countries. The company provides custom easy-to-install whole house water treatment systems and products in a large variety of different types and configurations including systems for removing iron, manganese, and no-salt water conditioners. The company's founders have been members of the AWWA since 1990.
Founded in 1881, the American Water Works Association is an international, nonprofit, scientific and educational society committed to the safety and improvement of water quality and supply. Focusing its work in four strategic areas, Knowledge Creation and Exchange, Leadership and Advocacy, Member Engagement and Development, and Organizational Stewardship, AWWA unites the full spectrum of the water community to advance water management, education and science and to advocate for smart water policies.