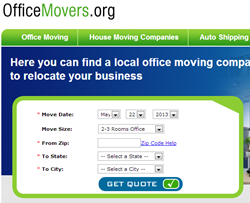 Office Movers - We Take Care of Business
(PRWEB) May 09, 2013
Office Movers a company that specializes in all facets of office moves, from relocation assistance to professional moving companies, has expanded their services to offer short and long-term storage quotes for those companies that need a holding space en route to their new location. Even if the company isn't in the position to leave office one day and start work at another location the next, Office Movers can offer their trusted short or long-term storage solutions for the critical in-between stage of the move.
Selecting a storage space requires care, because office items require well-managed care. OfficeMovers.org details specific requirements that office items may need in a storage space, as well as explanations regarding the types of amenities that may be available at different storage locations depending on specific needs.
Office Movers continues to update its database of quality storage solutions for to meet office needs, whatever priorities for storage may be. Visit OfficeMovers.org today to start receiving bids!
About http://www.OfficeMovers.org
Office Movers is an experienced moving service company that has been in business for the past 20 years. At Office Movers, we do commercial moving and have built our business on a reputation for excellence. This simple business philosophy has propelled us to success as the largest exclusively commercial mover in the country.